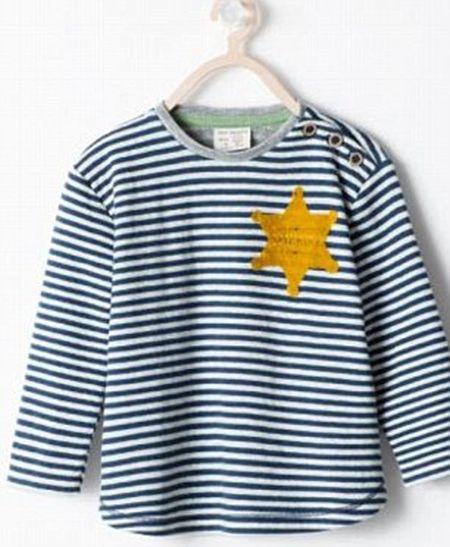 Spanish fashion retailer Zara, said it has withdrawn a children's shirt that triggered an outcry from people who said it was reminiscent of the clothes Jews were made to wear at Nazi concentration camps.
The long-sleeved shirt with horizontal dark stripes and a six-pointed yellow star on the left side of the chest prompted a storm on social media, with many people finding the shirt distasteful because it conjured up memories of the Holocaust.
"It was only on sale for a few hours, only online, it didn't hit the stores" said a spokeswoman with Inditex, parent company which owns the chain Zara where the shirt was sold. "It was withdrawn this morning."
Representatives from the fashion giant said the shirt was designed to be part of a Wild West clothing theme and the star was intended as a sheriff's badge and had "nothing to do with World War II.
The company said it removed the item from sale after several hours due to the protests and apologised to customers.
Soon after the T-shirt appeared online, there was a severe backlash on social media. Posting a picture of the offending garment one user, Eylon Aslan-Levy, wrote: 'What designer at #Zara thought this scream "sheriff" rather than "Auschwitz inmate"? Yes, this is real.'
Another, Jonathan Witt, posted: "Today's example of bad taste retail brought to you by @ZARA."
And Gidon Shaviv added: "Wow. How did Zara make this mistake? Holocaust look alike shirts…"
Image: An image of the T-shirt bearing resemblance to the Holocaust uniform.