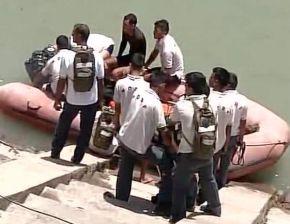 For the ill-fated group of students of a city-based engineering college merrily taking photos on the banks of Beas river in Himachal Pradesh, tragedy struck in a matter of couple of minutes as they were washed away in the swirling waters which suddenly rose several feet.
The gush of water turned out to be a tide of death, recounted surviving students. Many of them, particularly girls, were seen in a state of panic in Himachal Pradesh, where they are accommodated in lodges. Twenty-four students were washed away on Sunday evening in river Beas near Thalot on Manali-Kiratpur Highway, 40 kilometre from Mandi. Five bodies were recovered on Monday.
The students were caught unawares by the sudden discharge of water in the river from the reservoir of 126-MW Larji project. Even as rescue and relief operations were on at the incident spot, the surviving students had a harrowing tale to narrate. "It all happened in a matter of only 2-3 minutes," said one of the students.
Ravi Kumar, a student who was part of the group from the Hyderabad college, said, "I tried to alert my friends... I ran towards my friends but by then the water level had shot up."
Suharsha, 19, said their group had 48 students, three faculty members and a child of one of the faculty members. "It was around 5.30-6 pm on the third day of our tour and we all wanted to stop for a break. We were all sitting on the rocks, taking photos. There was a big rock in the middle of the river and everyone wanted to reach to the top of that rock. Some made their way to it by stepping on a series of small rocks," she said.
She went on to add, "After about 10 minutes, the water level started rising. I was upstream and I noticed it first. I began screaming, trying to alert everyone as I rushed back."
"The locals were also helping us. About 15-20 students were washed away in front of us. I could just see the head of one student but I didn't know he was still alive. I threw a rope towards the student but he just disappeared," the student said. The students alleged that neither was there any siren, to alert the people about the release of water nor any danger mark signboards on the river bank
"Had there been any warning before release of water, precious lives would not have been lost," the students said.
One of the surviving students who was with the group taking pictures on the rock recalled, "There was no water when we were taking photos. It was only after asking the locals we entered the river bed." One of the students, who swam to safety, said authorities reached the spot very late.
Meanwhile, relatives and friends of some of the students, who rushed to the spot from places like Chandigarh and Delhi, alleged that officials were not giving correct information about the incident. "We are not getting right information on how many students have been washed away... parents should be given proper information," they said.
Parents and relatives of the victims were inconsolable and clueless as to what exactly happened. In Hyderabad, mother of a girl student, who survived the incident, said her daughter had called up her and said several of her classmates have drowned due to sudden surge of water. "My daughter said she was unharmed and safe," the woman who hails from Adilabad district said.
Image: Officials carrying out a search and rescue operation at the dam, trying to fish out the students. Photograph: ANI's Twitter page.