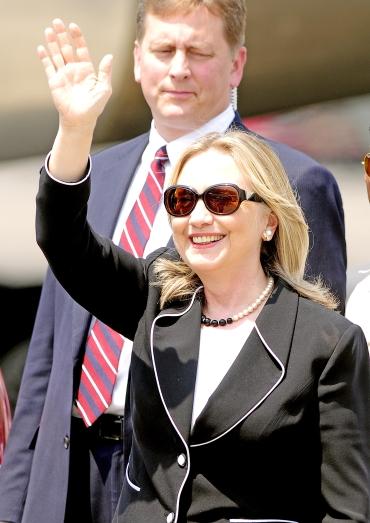 United States Secretary of State Hillary Clinton was on Sunday highly impressed by the rich art and culture of Bengal when she listened to a recital of modern songs by survivors of sex trafficking and visited exhibition of kantha-stitch textiles and Kalighat paintings.
The US former first lady was visibly moved after a troupe of seven girls, who are survivors of sex trafficking, spoke at the Indian Council for Cultural Relations complex about the plight of women through a modern Bengali song written by Mousumi Bhowmik.
City-based NGO Kolkata Sanved uses dance movement as an alternative mode of healing for the psycho-social rehabilitation of victims of violence and trafficking.
One of the dancers, who is 20 years old, said she felt delighted to have performed there as she got a pat on the back from Hillary.
After a big round of applause for the youngsters, Hillary complimented them saying, "I loved your breathing techniques ...wonderful."
Swarna Chitrakar, a traditional painter from Pingla village of West Midnapore district, showed how the message of anti-trafficking can be spread among the rural populace by means of traditional Kalighat paintings, known as 'pata chitra' in Bengali.
In her two-minute performance, she told the story embedded in the scroll paintings in the form of a song. Now a dying art, the traditional form of storytelling was popular in the 19th century.
Inside the Bengal pavilion of the ICCR, Hillary went through a collection of various handicrafts, saris and other textiles from various parts of West Bengal.
She also saw a brief karate performance by a girl who lives in a red-light area of Bihar.
Later, Hillary had a 30-minute discussion with nine NGO representatives, mostly from Bengal, on various issues related to women trafficking.
Uma Das requested her to ensure that red light areas are closed down all over the world.
"Also I requested her to campaign for punishment of those involved in sex trade and child marriage," said Uma, who now works as a videographer with the Delhi-based NGO Apne Aap.
She also gave her a wrist band with the message -- "Cool Men Don't Buy Sex".
Clinton immediately wore it on her wrist and asked her entire team to wear it.
She was also gifted two black T-shirts which read -- "Together we can end sex trade".
Amitava Bhattacharya of Banglanatak.com, who works on livelihood issues, said Hillary was well aware of the issue.
"She had in-depth knowledge and asked us questions like what change we have seen during the last 10 years and the means to prevent sex trafficking," he said.
Describing her as a very warm lady, Sohini Chakraborty, founder-director of NGO Kolkata Sanved said the discussion was very informal but meaningful.
During the meeting, Hillary asked the NGOs about their activities, the challenges they face and their collaboration with the government.
"She was very keen on learning about the gaps in implementing laws and also asked where they can collaborate," said Souvik Basu of 'Sanlaap'
Image: Hillary Clinton at the Kolkata Airport | Photograph: Dipak Chakraborty/Rediff.com