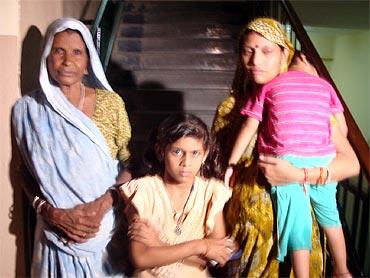 Papa Lal, a Hyderabad-based painter of Hindu deities for temple walls, who has been raising a Muslim girl orphaned by the 2007 blasts in the city in the face of stiff opposition, has threatened to commit suicide if his "daughter" Sonia Fatima is forcibly taken away from him.   
Papa Lal made the threat after the Hyderabad police arrested him following a complaint from his brother Lal Chand that the painter had attacked him and made an attempt to rape his wife Hemalatha, an allegation other family members said was false.
After Papa Lal and his family was ostracised by neighbours for raising a Muslim girl, his brother stepped in. The siblings broke into a physical fight after which Lal Chand alleged that Papa Lal had tried to rape his wife.
The police arrested an injured Papa Lal who was then remanded to judicial custody in Chanchalguda Central jail. His pregnant wife Jayashree and mother Dhanna Bi have been running from pillar to post to secure his release on bail.
"It is all part of a big conspiracy by the people of our community, who are using my brother-in-law to force us out of our Churi Bazaar home. They are dead against a Muslim girl staying with us," Jayashree told rediff.com.
She said they were being socially boycotted and the neigbours were harassing the family so that Sonia is sent away to an orphanage. "They often pelt stones at our house," she said, on the verge of tears. "They go to temples where my husband works and tell the employer not to give him any job because he is a Muslim." 

Papa Lal and his family have been enduring the agony for four years. It all started soon after he found the injured girl, then three years old, at the Gokul Chat Centre blast site on August 25, 2007, crying for her "ammi and abba". The painter took her to the police station after she told him that her parents were killed in the blast. The police could not trace Sonia's family and asked Papa Lal to look after her till they looked out for her relatives. But the police did not revert.   
Soon, Sonia became a part of Papa Lal's family, who raised her as a Muslim. "She use to offer namaaz and we made sure she continued the practice," said Jayashree.
As word spread that a Muslim girl was being brought up in a Hindu household, leaders from the minority community raised objections. But the issue died down after some human rights activists intervened.
Lawyer Abdul Raheem, an activist of the Human Rights Law Network who is helping the family, said, "We explained to members of the community that there were thousands of orphans that needed care and one should not object if a kind family is looking after the girl."
Papa Lal then approached the state Human Rights Commission, which appointed an advocate to look into the matter and directed the police to provide protection to the family.

But trouble started brewing once again after the two brothers got into an altercation.  "This is all a conspiracy in which the police has failed to help an innocent man," said another human rights activist, Qadeerunnisa.

However, the neighbours got emboldened after Lal Chand sided them. "I am surprised by my elder son's behaviour," said Dhanna Bi. "How can anyone ask a helpless girl to be thrown out? The girl has brought us luck. After she became a part of the family Jayshree became pregnant with her first child," she added.

Papa Lal and Jayashree are determined to raise Sonia. "Even if they put me behind bars, the girl will be a part of my family. She is my daughter and nobody can take her away from me," said Jayashree, as a worried looking Sonia held on to her.

Amidst all the tension, the couple has reason to smile. The Hyderabad district Child Welfare Committee has given the family a nod to take care of the girl for three months.
Responding to the family's petition to officially adopt Sonia, CWC said that officials will visit their home regularly to check how she was being treated, after which a final decision will be taken.
As far as Sonia is concerned, she knows what she wants. "This is my ammi," she said pointing to Jayashree. "The police have taken my abba away."

Image: (From left to right) Papa Lal's mother with Sonia and wife Jayashree