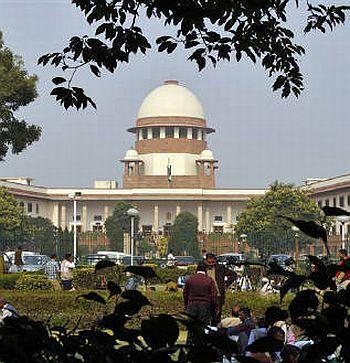 The Supreme Court on Tuesday rejected a plea for disclosure of the annual confidential reports of public servants under the Right To Information Act.
A bench of justices G S Singhvi and S J Mukhopadhaya upheld the Delhi high court's order that the annual performance appraisal reports, previously known as ACRs, of a public servant were personal information and exempted from disclosure under the transparency law.
"We find no reason to interfere with the impugned judgement passed by the division bench whereby the order passed by the learned Single Judge of the high court was affirmed," the bench said.
The court passed the order on an appeal filed by transparency activist R K Jain's plea challenging high court's order.
Jain had sought setting aside of HC order and issuance of a direction to the Centre to disclose alleged 'adverse' remarks in ACR of Jyoti Balasundaram, a member of Customs, Excise and Service Tax Appellate Tribunal in 2000-01.
Jain had earlier approached the CESTAT's central principal information officer, who had refused to "divulge any information on the ground that it was exempted under Section 8(1)(i) of the RTI Act". The CIC had also declined the plea on the same ground.