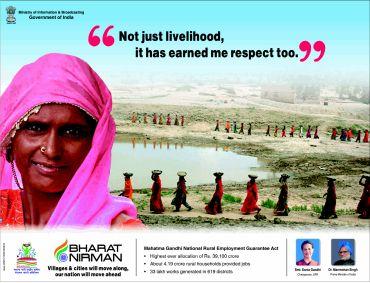 With the dates for the general elections likely to be announced soon, the UPA government has decided to bring to an end its high profile multi-media 'Bharat Nirman' publicity campaign.
The campaign sought to highlight the achievement and policies of the Congress-led UPA government in electronic and print media.
The Department of Audio Visual Publicity has issued an advisory to private TV channels, Doordarshan, FM radio channels, All India Radio as well as Community Radio Stations to not run Bharat Nirman audio-visual spots after March 2.
The advisory further added that channels should strictly adhere to this deadline as payments would not be made for audio-video spots telecast for the Bharat Nirman campaign beyond the deadline.
"The ministry has decided to wind up the campaign as there is likelihood that the model code of conduct can come in force in the coming days. The ministry has acted before the announcement as the intention was that there should be no chance that the code is violated even for a day," a senior official said.
The official added that the ministry had also taken a decision that it will stop issuance of more Bharat Nirman advertisements to print.
The Bharat Nirman campaign that ran in several phases focused on the development that took place in the country during the years ruled by the UPA government and also highlighted its policies and initiatives.

Image: One of the many advertisements that the government had released under the Bharat Nirman campaign