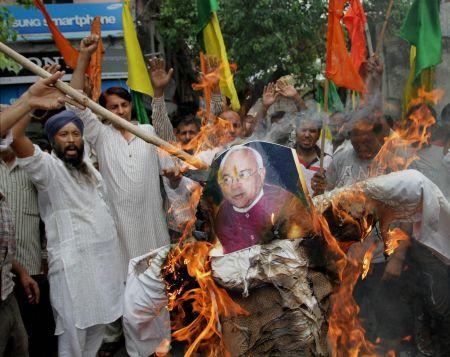 Facing attacks from all corners, the government on Tuesday disapproved of and condemned the meeting that a journalist had with 26/11 mastermind Hafiz Saeed and said it has sought a report from the Indian High Commission in Islamabad about whether they were aware of this.
"The government of India totally disapproves of this meeting of Ved Pratap Vaidik. The government condemns this meeting with the chief accused of Mumbai terror attack,"External Affairs Minister Sushma Swaraj told the Rajya Sabha. She insisted the government has nothing to do with it and "nothing to hide".
A full report has been sought from the Indian High Commission in Pakistan and it will be shared with the House, she promised.
Her response came as opposition members attacked the government over the meeting, saying its silence is intriguing and questioned how the Indian mission in Islamabad was not aware of it. Members also wanted to know if any action would be taken against Vaidik.
Image: Angry activists burn the effigy of journalist Ved Pratap Vaidik, denouncing his meeting with Hafiz Saeed. Photograp