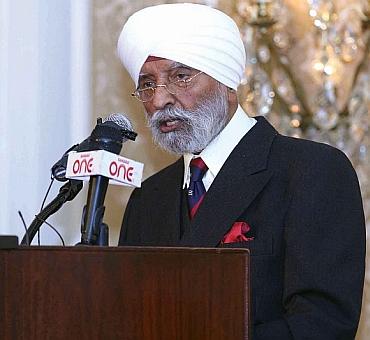 Sir Mota Singh, who grew up in Kenya playing cricket and studying the way legislation worked there during British rule, is one of the most outspoken champions of Sikh rights in the United Kingdom.
The first Asian judge in the country, Singh, 80, was knighted last year by Queen Elizabeth II. After his appointment to the bench in 1982, he made news in the British media and among the Sikh community worldwide by wearing a white turban instead of a wig in court.
Speaking against schools and employers prohibiting Sikhs from wearing the turban and kirpan (the religiously mandated dagger), he has said, "I wear my kirpan and I've always worn it for the last 35 to 40 years, even when I was sitting in court or visiting public buildings, including Buckingham Palace."
At the third biannual Guru Nanak Interfaith Prize Award ceremony in New York, Sir Mota spoke mostly on how well-meaning and religious-minded people are appalled and bewildered by the atrocities committed in the name of religion.
He spoke eloquently of what he called genuine toleration of other religious traditions. "The supreme challenge of our times -- as it has been from centuries especially since the times of Guru Nanak -- is to see God's image in a fellow human being," he asserted, "whose image is different from ours."
Recalling the teachings of Guru Nanak and his effort to take the best of the Hindu and Muslim traditions and fuse them, and his emphasis on good deeds being the ticket to heaven, Sir Mota said, "God is not interested in our religious labels. Violence and vengeance in the name of God blaspheme God."