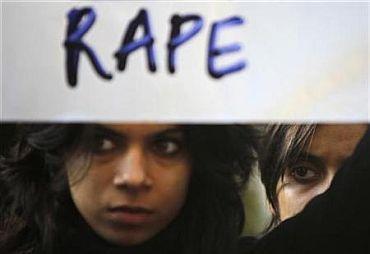 Alleging that she had been raped by president of the students' union of her college, a girl set herself on fire in Rajasthan's Bhilwara district and is in a critical condition, police said on Tuesday.
The girl, an undergraduate student at a college in Bijolia town, poured kerosene and set herself on fire last night, CO Mandalgarh Dharmendra Yadav said.
She was taken to a local hospital from where she was referred to Kota government hospital, he said, adding that her condition is critical.
The girl has alleged that she was raped by the president of the students union Ajit Singh on the pretext of marriage, Yadav said.
The accused is absconding and the matter is under investigation, he said.
Meanwhile, several students protested in Mandal town and in colleges in Bhilwara, demanding arrest of the accused.
"Protesting students in Mandal were dispersed and the situation is peaceful now," the police added.
Image: An anti-rape protest in New Delhi
Photograph: Reuters