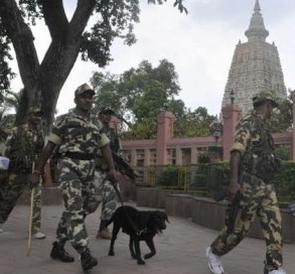 A month after serial bomb explosions at Bodh Gaya's Mahabodhi temple in Bihar, the temple management body has appealed to foreign monasteries to help woo pilgrims and tourists. On July 7, 10 bombs exploded in Bodh Gaya in which two Buddhist monks were injured. Three live bombs were recovered and defused.
N Dorjee, secretary, Bodh Gaya Temple Management Committee, said that he has appealed to heads of all monasteries to cooperate in spreading the massage that Bodh Gaya is safe amid tight security.
"I requested them to propagate or advertise the massage in their countries that the situation in Bodh Gaya is normal and there is no problem of safety and security," Dorjee said. All pilgrims in groups or as individuals are welcome to Bodhgaya and they need not fear anything," he said.
"There is complete normalcy at temple in Bodhgaya, except tighter security protocols which are a must, and we expect and appeal for everyone's support and cooperation," he added.
A special court has been established in the Patna civil court to hear the serial bombings case, said the official who is assisting the National Investigating Agency's probe.