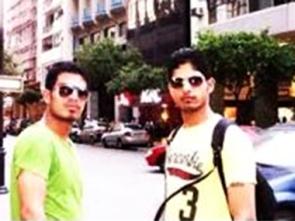 After being held in an immigration detention facility in El Paso, Texas, for six months, Jagdish Kumar and his partner Sukhwinder Sukhwinder were granted asylum December 20, 2013 to stay in the United States because of their fear of being persecuted for being gay in India.
With India's Supreme Court December 11 upholding Section 377 of the Indian Penal Code -- which criminalises homosexuality -- Kumar and Sukhwinder had a strong case.
Clement Lee, staff attorney at Immigration Equality, an organisation that provides legal services to LGBT immigrants, particularly asylum seekers, said that the men requested asylum right at the port of entry to the US, and did not attempt to cross the border illegally or do anything that went against American immigration laws.
"In India they had heard that the United States was a place where gay people could live openly and have the freedom that they lacked at home to live as openly gay men," Lee said.
"They expected to be detained for maybe four or five days and then be released once the US immigration authorities recognised that they were legitimate asylum seekers with genuine fears of persecution and valid claims for asylum. But, contrary to their expectations, they were not released."
The couple had fled Chandigarh, Punjab, after increasing anxiety over their inability to live freely.
Kumar, who is from Haryana, left home even earlier because of family and community pressures to lead a heterosexual life and marry a woman there, which he did. His fears of being beaten or killed because of suspicions over his sexuality drove him to Chandigarh, where he met Sukhwinder.
"Kumar and Sukhwinder did not have the resources to go directly from India to the US, they took a circuitous route," Lee said.
"Upon their arrival at the US-Mexico border the two men were held separately in a jail-like facility in El Paso where immigrants await the outcome of their removal proceedings.
According to Lee, those coming directly to border patrol and asking for asylum don't get to plead their case in front of an immigration judge immediately. They first have to speak to an asylum officer who visits them in the detention facility and gives them a preliminary interview to determine whether they have credible fear of persecution.
Kumar and Sukhwinder went through this, answering extensive questions about their sexual orientation and why they were afraid to return to India, and the officer confirmed the validity of their case.
However, due to the number of people detained, their case could not be heard for six months -- and in this time, the couple remained in the facility, while they waited, despite being able to prove that they were not a danger to the community here and had a relative with a Green Card who was willing to host them in Wisconsin.
Lee said there is no legal reason why they should not have been released during this period.
Once granted asylum, the couple was reunited after their long separation. They have joined Kumar's cousin in Wisconsin, where they are currently living.