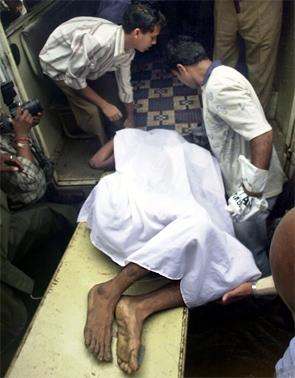 Mumbai claims to have a large number of developed public and private medical facilities. It attracts patients from all over, including abroad, for specialist care. Hoardings proclaiming all sorts of 'state-of-the-art' medical facilities dot its skylines. The lack of a developed emergency medical response system is completely incongruous with all this, says Dr Sanjay Nagral.
Yet again last week we had a depressingly familiar story in the newspapers. The parents of a young baby rushing from hospital to hospital in Mumbai looking for a ventilator to support her failing breathing and save her life. After knocking on the doors of five hospitals, where she was refused admission as there was no ventilator available, the baby finally died. Needless to say, an inquiry has been ordered.
If indeed the parents in the midst of their grief have the tenacity to follow up on their complaint a report of some sort may come out and some heads in insignificant positions may roll. More likely, nothing much will happen. The media and all of us will soon move in to the celebratory Diwali mode. A few months down the line some news paper will surely 'break' another such story. The sequence of events will repeat, there will be a sense of déjà vu. And if the past is anything to go by this cynical cycle will go on.
Many an unfortunate citizen has died in similar circumstances in this city and will continue to die. Other tragedies that occur in society around us seem distant to people like you and me. We feel we are unlikely to be crushed in a temple stampede, fall off a running train or be buried in the rubble of a building collapse. This, however, merits our extra attention for a scary and, pardon me, selfish reason. This could happen to you and me. It does.
A few months back, an elderly lady in the building I live in Central Mumbai collapsed at home one night. Her panic stricken granddaughter rushed to my place. I ran up and saw that the lady was gasping for breath and had a feeble heartbeat. Within seconds she had a cardiac arrest and I started a cardiac massage. I asked to call a few ambulance emergency lines I could remember offhand. As I continued my massage I could hear multiple bizarre telephonic conversations about which hospital they wanted to go to, what sort of ambulance was needed and whether they were members of some ambulance scheme etc. I shouted out that any ambulance with basic equipment will do to take her to the nearest hospital. This went on for 20 minutes and an ambulance had still not arrived. The lady passed away. Perhaps she had an untreatable condition and may not have survived even in a hospital ICU. But the point is, she did not even reach one.
Now imagine another scenario. You are walking on the streets of the city and are knocked down by a speeding car or collapse due to a heart attack. What happens next is an open question, a matter of fate, luck and circumstances. At that moment you are at the complete mercy of passersby or the police. Often you would be put into the nearest vehicle and taken to the nearest hospital. And you may need a ventilator and an ICU bed. So what if the hospital you are taken to doesn't have one? What happens next? Would you have an ambulance that has the necessary equipment to support your breath till the time you find one? Most don't. So in case your family members don't arrive by this time, who takes care of you? How does the system decide which other hospital you should be taken to? If you have no family, will anyone be willing to take you to the nearest private facility fearing the costs and refusal? How will the private facility respond? Will they demand a deposit?
In this difficult but necessary attempt to dissect this further, one simplistic but perhaps accurate way to begin is by raising some basic questions. How many ventilators does the city have and how has this number been decided? Where exactly are they? Is it possible that ventilators are bought but often not in working condition? When someone is gasping for breath how does the ambulance decide on where to take the patient? How does one know whether a ventilator in a hospital is available or not? And how is one sure that when someone in a hospital says no, that response is always reliable and credible?
Whose responsibility is it to ensure that the patient is safely transported from one hospital to another only after checking that a ventilator is available at the next one? And why does one need to travel the length of the city if there is a private facility nearby where ventilators are more likely to be available? And is it binding on any hospital to accept a patient gasping for breath without consideration of money at least till he or she is stabilised? And, above all, why does a city of this size, resources and claim to modernity not have a developed, centralised ambulance cum emergency system that coordinates from a nodal point where updated information on the status of availability of ICU beds, ventilators are available? The cost of such a venture is peanuts given the city's resources and cannot be the explanation. So there is something else at work here.
This megacity claims to have a large number of developed public and private medical facilities. It attracts patients from all over, including abroad, for specialist care. Hoardings proclaiming all sorts of 'state of the art' medical facilities dot its skylines. The lack of a developed emergency medical response system is completely incongruous with all this. The private sector, inward looking as it is, is unlikely to invest or even be interested in such a system. The State, on the other hand, just doesn't seem to have the political will to give this their attention. There are periodic public pronouncements about grandiose plans to set up such a facility but as yet this remains in the realm of the future. The Mumbai municipal corporation which runs hospitals and medical colleges well above the national standards is unable to get its act together when it comes to coordination between its own network of hospitals.
But, finally, this is not about money, hospitals or ambulances. This is about recognising every citizen's life as valuable and in turn a conscious policy decision to compel all the relevant players to coordinate to build a robust system of equipped ambulances linked to all large hospitals public and private which are in turn duty-bound to accept emergency patients irrespective of their ability to pay.
It is also about the creation of a centralised agency which will have reliable, updated and easily accessible information on the availability of beds including ventilators in all city hospitals. This is not any original brainwave but a look at how it is done in most large cities in the world, including those in developing countries, will reveal the obvious. For that matter, even some states in India have recently made an attempt in this direction by having a fleet of ambulances linked to hospitals with a single toll-free number.
But lest we shift the entire onus on political will, let us recognise the subtle complicity that all of us have in this inaction. This metropolis has no dearth of political groupings, citizen's groups, advance locality management groups, Rotary and Lions clubs, mandals, NGOs running campaigns and pushing for change. We have shown huge collective outrage over terrorism and sexual violence. We have fought for housing, roads, green spaces, noise pollution, stray dogs and many other causes. We have asked for blood, eye and organ donation from our citizens.
But, strangely, we have avoided asking elementary questions about this repetitive, basic violation of human life. We have perhaps even internalised these incidents as an occasional aberration or someone's bad luck. And easily accepted the symbolic response of inquiries and newspaper exposes. We need to recognise it as a major crisis endangering the lives of all citizens, including our own, with a tangible, implementable systemic solution in the realm of public health policy.
I am reasonably sure that the day the baby died there was a ventilator available in some hospital somewhere in Mumbai. All ICU beds and all ventilators in the city couldn't have been occupied. It's just that the ambulance staff and the doctors in those multiple hospitals which she was taken to did not have access to that information. Also, they were scared to refer the baby to a private hospital. It was not evil intention but poor coordination, lack of an organised system and apprehension about the costs in private hospitals that led to the baby going from hospital to hospital.
With all its claims to opportunity and camaraderie MaximumCity extinguished an innocent newborn's chance of even starting a life. How do we, if at all, face the grief-stricken but angry parents? If a symbolic gesture is what is desired, a quick inquiry with a few suspensions is the time-tested route. But if genuine guilt is sought to be fixed, the entire city, you and me included, will need to be put on trial and possibly collectively penalised.
Image: A Reuters photograph.
Dr Sanjay Nagral works as a surgeon in private and public sector hospitals in Mumbai.