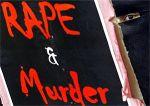 An Air India official denied before a special court here the claim of December 16 gang rape accused that the coffin in which the body of the victim was flown back to India did not contain "human remains" and was loaded with "other things".
"It is wrong to suggest that instead of human remains some other things were loaded in the box (coffin). The coffin was in sealed condition and in my presence no one has opened it," the AI official said while deposing as a prosecution witness.
The AI official is posted at the IGI cargo terminal and in his presence the coffin carrying the victim's dead body was unloaded on December 29, 2012.
He was being cross-examined by accused Mukesh and Akshay's counsel who claimed in the court of Additional Sessions Judge Yogesh Khanna that the coffin which arrived from SingaporeHospital did not contain the victims' body.
"As per the documents, the coffin carried human remains. The weight of the box was 140 kg, a consolidated weight of the coffin and the human remains," the witness said.
The counsel also put a question to the official as to why the coffin was not checked through X-ray machine, to which he replied there was no such machine at the bay and after checking the necessary documents, the box was received by the victim's father and the police and loaded in an ambulance.
Asked, to whom did he hand over the coffin, the official said, "after checking the documents, the coffin was handed over to the consignee, the father of the victim who had come in the same aircraft along with the box".
The court, however, disallowed the defence question whether he verified the identity of the girl's father as he himself is a witness in the case.
The official in his statement has also said that he has not seen any photograph of the body in the documents received by him but had seen the girl's name in the passport and had also checked the death certificate, embalming certificate and a letter from the Indian mission in Singapore.
Meanwhile, Vinay Sharma's counsel A P Singh told the media person that he was provided nutritious food inside Tihar jail following his request to the court since he is preparing for tests for recruitment of clerks in Indian Air Force.
Initially, five accused in the case were facing trial for allegedly gang-raping and assaulting a 23-year-old girl in a moving bus on the night of December 16, 2012.
With the proceedings against the main accused Ram Singh having abated after his death on March 11, the remaining four adults accused Mukesh, Vinay, Akshay and Pawan are facing trial in the case for rape and murder of the girl. The sixth accused in the case is a juvenile who is facing proceedings before the Juvenile Justice Board.