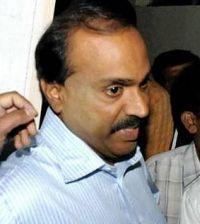 Mining baron and former Karnataka minister Gali Janardhan Reddy, an accused in the illegal mining case involving his Obulapuram Mining Company and his personal assistant K Mehfuz Ali, also an accused in the case, were taken to Bangalore from Chanchalguda Central Prison in Hyderabad on Thursday.
The duo who are under judicial remand and lodged in Chanchalguda jail were taken on a transit warrant by a escort party in Hyderabad for their production before a CBI court in Bangalore for Friday in connection with the illegal mining activity by Associated Mining Company, officials said.
"A prisoner transit warrant was issued against Reddy and Ali Khan seeking their production before a CBI court on March 8 in Bangalore. Hence, they were being shifted to Bangalore by road," Chanchalguda Jail officials said.
The CBI in Karnataka had filed an FIR against 21 people including Reddy, his wife Aruna, and others in connection with illegal quarrying by Associated Mining Company, owned by Reddy and his spouse.
Khan, also an accused in the Associated Mining Company scam along with Reddy and others, was brought to Hyderabad on September 25 last year and is under judicial remand here.
Reddy is also an accused in the cash-for-bail scam.
Reddy and his brother-in-law B V Srinivas Reddy, the managing director of the mining company, were arrested on September 5, 2011 from Bellary and brought to Hyderabad.
The CBI had filed a charge sheet against Reddy and others on December 3, 2011 in OMC case.
OMC is accused of changing mining lease boundary markings between Andhra Pradesh and Karnataka to indulge in illegal mining in the BellaryReserveForest areas, spread between Bellary district of Karnataka and Anantapur district of Andhra Pradesh.