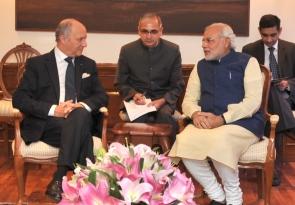 French Foreign Minister Laurent Fabius on Tuesday called on Prime Minister Narendra Modi and discussed ways to strengthen cooperation in key areas such as defence, trade and investment with India expressing keenness on setting up industrial bases for it to boost ties.
The visiting minister also extended his President Francois Hollande's invitation to Modi to visit France. Terming his meeting with Modi as "warm", Fabius said he had "positive" talks with the Prime Minister on issues of urban planning, tourism and low-cost defence manufacturing.
Asked if he raised the multi-billion Rafale deal with Modi, the minister did not give a direct answer but said it was acknowledged that defence was a very important area of cooperation in the bilateral relationship.
"The next step is for the French firm Dassault and for the Indian government to discuss the details which have not yet been discussed and hopefully reach a conclusion.... For us the early the better...," the minister told a select group of news agency journalists.
On Monday, during his meetings with Defence Minister Arun Jaitley and his Indian counterpart Sushma Swaraj, Fabius had pushed for early purchase of the multi-billion dollar Rafale combat aircraft by India.
The visiting minister said the two countries are keen on strengthening economic ties and technology sharing and during the meeting the prime minister was interested in setting up "industrial bases" in the country.
Fabius said the biggest takeaway for him from this visit was the certainty that the new government was committed to further strengthen and expand the bilateral relationship. Among other issues, they discussed climate change, anti-terrorism and people-to-people exchanges.
Image: French Foreign Minister Laurent Fabius calls on Prime Minister Narendra Modi in New Delhi. Photograph: PIB