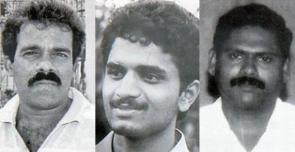 In the backdrop of the Supreme Court commuting the death sentences of former prime minister Rajiv Gandhi, and Tamil Nadu Chief Minister Jayalalithaa announcing that her government will release all the accused, party vice-president Rahul Gandhi will be holding consultations with senior party leaders on Friday at an informal meeting of the Congress Working Committee. Renu Mittal reports
An informal meeting of the Congress Working Committee has been called on Friday evening at 5.30 pm after the 15th Lok Sabha bids farewell and the house is dissolved before the next General Elections.
While an informal CWC does not have any stated agenda, sources in the Congress say that the meeting has been called by Rahul which lends credence to the speculation that it may have been called to discuss Tamil Nadu Chief Minister Jayalalithaa's decision to release the killers of former prime minister Rajiv Gandhi on Wednesday.
The Tamil Nadu CM has given the Centre three days to react to her decision, after which they would be released.
Rahul has reacted to the decision of the Tamil Nadu Government saying that if the killers of a prime minister can be freed then how can the common man expect justice. The Congress has also reacted strongly to the decision calling it "irresponsible, perverse and populist".
Rahul has said that he was saddened by the decision as it was not about his father but about justice. He said he was personally against the death penalty.
Nalini, one of the accused was granted pardon in 2000 by party president Sonia Gandhi. This was after Priyanka made a secret visit to the jail and asked for mercy, since Nalini had a young child.
But with the elections due in May, the decision is being seen as one with big political ramifications. It is expected that the CWC would take a broader overview of the issue keeping in mind the nation-wide elections, and not just Tamil Nadu where it does not have much of a base and cannot be successful in contesting the elections alone.
Image: The convicts in the Rajiv Gandhi assassination case