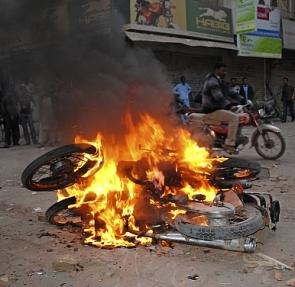 At least four soldiers were killed and three others injured on Thursday in a suicide attack on a security check-post in Pakistan's restive North Waziristan tribal region.
A suicide bomber struck his explosive-laden vehicle into a security check-post in Watta Khel, killing four and injuring three other officials, according to sources.
Following the attack, fire erupted at the check-post, resulting in casualties. In retaliation, the security forces began aerial firing.
Residents said they also heard firing after the attack.
No group has claimed responsibility for the attack.
A major Taliban group in the region, led by Hafiz Gul Bahadar, has signed a peace deal with the government in North Waziristan.
Some other militant groups, including the banned Tehrik-e-Taliban Pakistan, operate in the region.
The authorities blame the TTP and its affiliated groups for these attacks.
The suicide bombing occurred a day after a United States drone killed 17 suspected militants in North Waziristan.
The US and Afghan officials allege that the militants use North Waziristan as launching pad for cross-border attacks in Afghanistan.