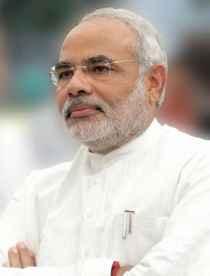 Is Prime Minister Narendra Modi's meeting with German Chancellor Angela Merkel en route to Brazil contingent on the outcome of the FIFA world cup semi-final match between Germany and Brazil on July 9?
Prime Minister Modi is likely to meet Merkel during his stopover in Germany on his way to Brazil for the Brazil-Russia-India-China-South Africa (BRICS) Summit on July 15 and 16.
A senior BJP minister confessed that the Modi-Merkel meeting in Berlin will depend on Germany's performance in the semi-finals.
"If Germany loses, the country will be in mourning. And if it wins, Merkel may decide to see her country's team play the finals in Rio De Janeiro on July 13," he remarked.
The minister maintained the German leg of the trip is still being finalised. Government sources said the PM is slated to leave for Brazil between July 11 and 13.
Since PM Modi is to make a transit halt in Frankfurt en route to Brazil, the possibility of a meeting with Merkel is being explored.
However, Modi may stopover in Berlin if his meeting with Merkel fructifies. If not, the Indian team will take a night halt in Frankfurt, the minister added.
There is no official word from the Ministry of External Affairs on the details of Modi's trip. Modi's meetings in Germany, it is said, are yet to be finalised and the possibility of a meeting with Merkel "is being looked at".
"When you travel trans-Atlantic or to Latin America, it is normal to have a transit halt. A transit halt is what is being planned for and that is where we are. Now, if, in the context of a transit halt, there is a request for any further interaction, at this stage that has not been decided upon," an MEA spokesperson told mediapersons when questioned about the possibility of a Modi-Merkel meeting.
Meanwhile, Modi and other BRICS leaders have been invited to watch the World Cup final.
Image: Prime Minister Narendra Modi