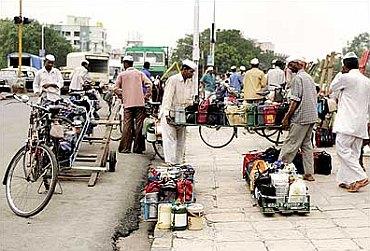 For the first time on Friday, the dabbawallas in Mumbai will strike in support of social activist Anna Hazare's movement. The move is significant, since in their 120-year-old history, the dabbawallas have never gone on a strike.
The dabbawallas had said a few days earlier, that they were considering going on strike for a one-day strike. But the statement was guarded, because such a move would put a blemish on their spotless record.
However on Thursday, the dabbawallas took a decision to go on a one-day token strike.
The decision was made easy after the enormous groundswell of public support from across India for Hazare.
"We have decided to go on a strike on Friday. If the whole country is supporting him (Hazare), then we thought we too could do a small part in it. There is no personal benefit in it for us; we are doing it because we consider it as our duty," said Raghunath Medge, president, Nutan Tiffin Association, an umbrella organisation of the dabbawallas.
The dabbawallas provide daily tiffin boxes to more than 1,75,000 people in the city. So reliable and efficient are the dabbawallas , that the Forbes magazine gave them a six sigma rating.
In the past, the dabbawallas have also been asked to give lectures in some of the most prestigious business schools in the country.
Image:  A file photo of Mumbai's dabbawals