The murky politics of the BCCI is likely take a new turn, reports Sheela Bhatt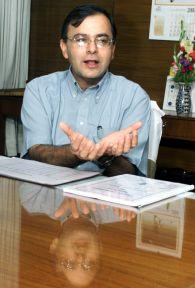 According to a member of the Board of Control for Cricket in India, "Tomorrow President N Srinivasan will step aside if not step down from his current position."

The BCCI member told rediff.com that it was unlikely that the board will allow Srinivasan to have his say while stepping aside. Also, neither a new treasurer nor a new secretary of Srinivasan's choice will be appointed.

The murky politics of the BCCI is likely take a new turn on Sunday. The exit of the tainted president will also shift the balance of power.

The Congress, Bharatiya Janata Party and the Nationalist Congress Party chief Sharad Pawar are playing games behind the scene. BJP's Arun Jaitley and Gujarat Chief Minister Narendra Modi are working in tandem to ensure that their stakes remain unaffected. Both are working out a strategy. They are not meek players in power politics inside the BCCI to be lead or directed by television reports or headlines in newspapers, says a source in the BCCI.

When Srinivasan's son-in-law Gurunath Meiyappan was arrested, Jaitley and Modi had told Srinivasan to step down yet kept away from making headlines. Once Srinivasan loses control of the BCCI a new clique will emerge.
Srinivasan, however, is an old player when it comes to power politics in the world of cricket. BCCI board members claim nobody is underestimating Srinivasan, even when his chips are down.