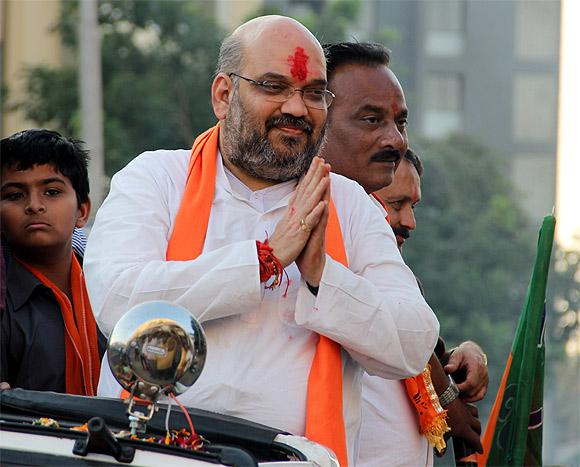 "You are unable to throw out the bhoot (ghost) of secularism from your mind but the people of India have taken the decision already. There is tremendous anti-incumbency all over the country and Indian voters across the country will reject Congress in coming election." said Amit Shah, former minister of Gujarat, who is accused in fake encounter cases, Bharatiya Janata Party's general secretary and now in-charge of election work in Uttar Pradesh.
In his first exclusive interview to rediff.com after he was made in-charge of Uttar Pradesh, politically the most crucial state of India in May 2013, Shah speaks at length about his task in UP, his party and his boss Narendra Modi, the prime ministerial candidate of the BJP.
Shah said, "The Indian voters are asking only one question. Who can bring in development? The answer is: Narendra Modi."
He said that in the coming months, Modi will address around 100 rallies. The BJP's publicity machinery is in full gear and the party is confident that more and more people will throng to listen to Modi in public rallies in the days to come.
When asked that his presence in UP itself is divisive, he refuted the allegation saying that, "My image is the creation of media." When reminded that how on his visit to Ayodhya he was reasserting the construction of Ram temple, Shah said, "I had only said that I had prayed before Lord Ram that I wish with help of every section of the society the temple will be constructed."
He reminded that his party's senior leaders have already said that the construction of the Ram temple is not the BJP's election issue.
When asked again and again about his plans to use the Hindutva plank for coming election, Shah said, "Keep aside Hindutva; the terrible anti-incumbency is enough to defeat the Congress."
When asked that, "If Modi fails to achieve his dream and the BJP fails in election to capture power in New Delhi, what will be his fate?"
Shah said, "We are in politics. In politics the leaders are supposed to work and work. We don't worry about our future because all BJP leaders are accustomed to sit in the opposition. We have spent our life in the opposition. Rather, I think (with an amused expression) about the Congress. Imagine what will happen to Congress leaders as they are set to lose very badly!"
Read the full transcript of Amit Shah's aggressive, exclusive and first interview on Monday.