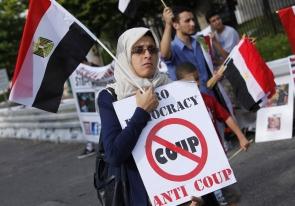 The Egyptian embassy in Bangladesh will remain closed for 11 days from Wednesday over "security reasons".
The development came after the embassy received a letter from an unidentified sender asking the Egyptian authorities to stop the "killing of Muslim Brotherhood members".
"The consular section of the embassy will remain closed from August 21-31 due to some security reasons," the embassy said in a statement without elaboration.
Deputy Chief of Mission Omar Shoeb said "security reasons" prompted them to keep suspended the consular section for several days.
Officials of the police's security wing said they were informed that the embassy received a letter demanding an end to the killing of the supporters of deposed President Mohamed Morsi.
"We have sent a team on Tuesday to tighten the embassy's security on receiving the information," said a spokesman of the Rapid Action Battalion.
Several right-wing Islamic groups earlier protested the army actions against the Brotherhood activists.
Some 200 student wing activists of fundamentalist Jamaat-e-Islami, believed to have close political affiliation with Brotherhood, staged a protest march in Dhaka on Tuesday.
They exploded several crude bombs to denounce the army actions in Egypt.
Bangladesh and Cairo maintain close diplomatic ties but Dhaka is yet to issue any statement on the recent developments in Egypt.
Image: Activists from the Egyptian-Americans for Democracy and Human Rights organisation protest outside the Egypt embassy in Washington ' Photograph: Yuri Gripas/Reuters