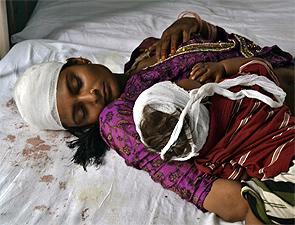 There is a possibility of an outbreak of epidemics in relief camps, where thousands of riot-hit victims have taken shelter following last month's communal violence in Muzaffarnagar, a team of doctors said after a survey of the areas.
A 10-member team of the Resident Doctors' Association from the Jawaharlal Nehru Medical College, that recently visited the riot-hit areas of Muzaffarnagar, in its report has highlighted the possibility of an epidemic in relief camps.
"If immediate remedial steps are not undertaken on a war footing by the concerned authorities and relief agencies, the situation could become worse," the report said.
In a statement today, the RDA said that in the relief camps, people were living in completely unhygienic and unsanitary conditions.
The report said that a large number of the residents of these relief camps were suffering from psychological effects of deep trauma and there was an urgent need for providing immediate medical assistance and drawing up a long-term rehabilitation programme for the displaced people.
RDA President Dr Mohd Ahsanullah said that the report had been prepared by a team of ten doctors which visited the worst affected villages of Shahpur, Malakpur, Sunaithi, Barnavi, Kandhla, Jola and Islamabad.
mage: A woman and her child, who were injured in communal clashes, rest on a hospital bed in Muzaffarnagar ' Photograph: Reuters