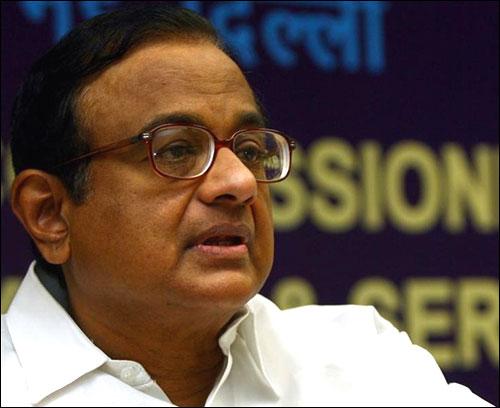 Rejecting contentions that the government is implementing the Aadhar enabled Direct Benefit Transfer (cash transfer) system in a hurry, Finance Minister P Chidambaram told the Rajya Sabha on Thursday that the measure being implemented step by step will eliminate leakages, delays, duplicacies and falsification.
"It will lead to seamless transition. We believe that the new system, which we will introduce, will be more transparent. It will eliminate leakages, delays, duplicacies and
falsification. The government firmly believes this will introduce a very high degree of efficiency and transparency," he said.
Chidambaram was replying to a short notice question by Prakash Javadekar (Bharatiya Janata Party) as to whether government has taken a decision of direct cash transfer in beneficiary accounts for 29 centrally sponsored schemes.
He said a decision has been taken to shift to a system of Aadhar enabled direct benefit transfer of funds under 34 identified central sector/centrally sponsored schemes.
The schemes will be implemented in a phased manner starting with 43 districts with effect from January 1 next year, he said.
"The scheme was not devised in a hurry. It will not be implemented in a hurry. Our watchword for the scheme is we will not hasten, will implement it slowly, step by step," he said.
Seeking to allay apprehensions of members over lack of infrastructure and training to implement the shift in the system of transferring the benefits, the finance minister said, "Technology will help us roll out (the cash transfer). There will be some hiccups in the beginning but these hiccups will be overcome....Training is being provided. Bank managers, business correspondents are being trained."
The finance minister said he has called a meeting of the deputy collectors of three districts, where it will be implemented in the first phase.
"This will be a major technological change. We are embarking upon a major transformation in the way the government transfers the benefits of schemes. There will be hiccups but if the scheme is planned and the glitches are removed, it will be more efficient and transparent," he said.
Chidambaram said if complaints come under the DBT scheme, they will be investigated and it will be easier to track irregularities as payments will be made electronically.
Replying to a supplementary by Ramkripal Yadav (Rashtriya Janata Dal) as to how will the beneficiary draw money and whether they have been trained, the finance minister said there is a 'tendency to underestimate' people.
"They are already using ATMs. It is only mini-ATM, a replica of ATM. Beneficiaries can draw benefit from mini-ATM," he said adding business correspondents will help them in this.
Chidambaram said the central ministries concerned have set up implementation committees on DBT, which will operationalise transfers with due consultations with state governments and various stakeholders.
Responding to the minister's written reply, Javadekar said earlier it appeared from the announcement of the reported 'game changer 'scheme made in the All India Congress Committee headquarters that all Aadhar holders will get benefit and this was a new scheme but the reply makes it clear that many of the state governments are already giving cash transfer in few schemes.


Chidambaram said no one made the claim that all Aadhar card holders will get benefit of cash transfer and he can do nothing if the member wants to believe that there is nothing new in the government's announcement.


He said this shift to cash transfer will lead to 'seamless transfer' of money from the ministry's account to the account of the beneficiary.


Javadekar asked as to how there could be a seamless transition expressing doubts whether there is required speed of internet for real time verification of the beneficiaries, electricity or even banks in far flung areas of the 43 districts selected in the first phase for rolling out benefits.
While assuring members that there was a technology committee to look into these aspects and that the 43 districts selected for the phase of roll out has sufficient number of bank branches, Chidambaram said in a lighter vein that he thought only he was technologically challenged but 'my friend is equally technologically challenged'.
He said the government is trying to ensure that every scheme must have a digitalised list of beneficiaries. "The list will be forwarded to deputy commissioners and lead banks," he said, adding that it will later be broken at state and district levels. He also said that the banks must have sufficient number of business transactions.
"Today I will talk to the deputy commissioners. I will tell the DCs unless these conditions are fulfilled, your district will not be selected. Ministries have also been told to digitalise," he said.