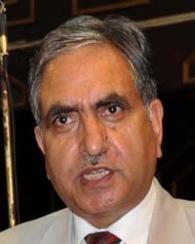 The ruling National Conference on Friday demanded a CBI enquiry or a high-level probe into the functioning of a top secret intelligence unit set up by the former Army chief, General V K Singh. The unit is alleged 'to have used secret service funds to destabilise the Omar Abdullah government in Jammu and Kashmir.'
Addressing a press conference, the NC provincial president and former junior home minister, Nasir Aslam Wani, said, "Issue of destabilising the current government by former Army chief VK Singh as alleged by a newspaper is a very serious matter and can't be brushed aside or dismissed."
"This issue needs a thorough probe and no attempt should be made to cover up and as such we demand a judicial probe under a sitting judge of the Supreme Court or at the least by the CBI," Wani said adding "the finding of which must be made public without any delay."
"We demand that all the people from the state or outside who are involved overtly or covertly are made public and punished," he added.
"Jammu and Kashmir has suffered at the machinations of people who have tried time and again to demean the elected government and this alleged report substantiates that there are people who want to dent the credibility of democratic institutions that India is known for," Wani said.
Stating that the media reports have again brought to fore the Machil encounter, the provincial president said, "In 2010, a series of events resulted in the sort of protests that you saw on the streets and the origins of that lie in a fake encounter that took place in north Kashmir's Machil."
"These protest that spiralled vindicates our stand that the entire 2010 could also have been orchestrated."
State agriculture minister, Ghulam Hassan Mir, whose name has figured in reports of having allegedly received funds from the unit set up by the former Army chief, Friday said that the allegations were baseless.
"I have always been playing a vital role in strengthening the democratic set up in the state and I have always been an active player to diffuse the crisis in the valley."
"There is no question of conspiring against the government. People know what role I have been playing in diffusing the crisis," he said.
"I am an open book and I have nothing to hide," he said.
The clarification came after the National Conference demanded the resignation of Mir from the state cabinet.
"If the report is true, Mir has no moral right to be in the cabinet and he should immediately step down," senior NC leader and minister, Ali Mohammad Sagar told a local news agency. He said that it was evident that 'conspiracies were being hatched against NC over the years'.
CPM State Secretary, Mohamamd Yousuf Tarigami demanded a thorough probe into the allegations, saying that 'the matter should be probed thoroughly'.