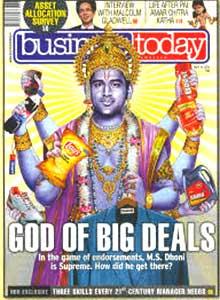 A local court in Anantpur on Tuesday issued a warrant of appearance against Indian cricket captain Mahendra Singh Dhoni in connection with a private complaint accusing him of hurting the religious sentiments of Hindus.
The court of district principal sessions judge of Anantapur issued the directive based on a complaint filed by Gopal Rao and Shyam, who are said to belong to a Hindu right-wing organisation.
In the complaint filed last year, the duo had submitted before court that Dhoni had been depicted as a Hindu deity on the cover of a business magazine with the picture showing him bearing, among other things, shoes in one of his hands. That had "hurt the religious sentiments of Hindus", the complainants have alleged.
The court had subsequently issued summons against the representatives of the business magazine, Dhoni and others.
The representatives of the magazine appeared before court on Tuesday although neither Dhoni nor any lawyer on his behalf was present in court.
"The court issued the warrant of appearance as neither Dhoni nor anyone representing him appeared before it in connection with the complaint. It is not an arrest warrant...It is a warrant of appearance and is bailable," said a senior police officer.

Image: The cover of Business Today carried a picture of Dhoni depicting him as Lord Vishu