When elections are close, debates can make a big difference, writes Bikash Mohapatra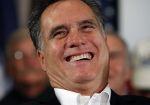 Mitt Romney is meant to be the President of the United States," declared Jeb Bush, the former Governor of Florida.
A thunderous applause followed and many voters (and political observers) present at the congregation believed the Republican candidate would certainly make it to the White House.
There were many who seconded the former Governor's view.
"In the next few days our world will change with a two-word headline -- 'Romney wins'," declared Pam Bondi, the Attorney General of Florida.
There might be a predictability regarding the views above, considering the fact that the campaign is in its last leg. However, the positivity conspicuous in this final leg of the Republican campaign was hitherto unseen, if the political strategists here are to be believed.
The last few weeks have witnessed a surge in optimism regarding Romney's chances, something that was amiss in the weeks before. For most parts of his initial campaign Romney had looked anything but convincing and his candidature seemed a bit out of place.
The former Massachusetts Governor had made an attempt to secure a nomination four years back as well but had lost out to John McCain. And though on this occasion he had successfully obtained it not many believed he would go all the way.
The 65-year-old's campaign intensified with each passing week, and to his credit he remained in contention throughout. However, he did little to convince experts that he had the calibre to topple the incumbent.
"He (Romney) seemed destined to finish a distant second," opined observer Jeff Cullen.
Barack Obama should have had it easy, winning a second straight term that is. Only he chose to let the advantage slip out of his grasp.  Blame it on that not-so-good human attribute called complacency.
The president came into the first debate in Denver (Colorado), in early October, with a huge advantage and left the same having given his rival's campaign a shot in the arm.
"Even though you think there's a lot of coverage to the nomination season, most of the people aren't paying attention (to Romney's campaign)," explained political expert Seth McKee.
"Those who do are likely to be the Republicans who care for their nominee," he continued, adding, "So even when you get into early October, and even though Romney ran in 2008 and almost got a nomination, he was still somewhat an unknown commodity beyond the attack ads that the Obama campaign was running and the surrogates."
However, the debate in Denver changed all that.
"When in the first debate Obama took a 'nap' Romney was on with his game. Of course he had been doing debates in all these years and was ready," said McKee, adding, "And he has this performance that further consolidates Republican support and independents give him a fresh look.
"That first debate was so important for Romney. If he didn't perform well in that debate, and the president did, this election won't be so close now. That debate propelled Romney and the polls show it. The state of Florida, for example, was leaning for Obama. But now it's a dead heat thanks to the push that Romney got from that debate."
That debate (in Denver) turned very critical in this presidential race and even though Romney lost the next two rounds -- in Hempstead (New York) and Boca Raton (Florida), both the candidates were fairly close in terms of how they scored. And the reverses didn't actually hamper the Republican's prospects much.
"When the elections are one-sided the campaigns don't matter.  However, when the elections are close, as is the case with this, the campaigns and debates become pivotal," explained McKee, adding, "Debates can become a difference maker when things are close."
For Romney it certainly did.