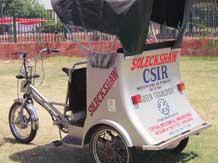 The Delhi high court on Thursday directed the city government to stop erickshaws from plying on the roads of the national capital "as of now". "Stop it as of now," a bench of justices B D Ahmed and S Mridul said, while observing that "unregulated plying of vehicles on Delhi roads is prima facie a hazard to other traffic on road as well as the citizens".
"You (Delhi government) say it is illegal. You stop them (erickshaws) in the meantime, till a law is framed to regulate them. You can't allow them to take law into their hands," the court said.
The court directed, "Respondents (city government and authorities) will forthwith take steps to prevent plying of erickshaws without fail".
During the brief proceedings, advocate Zubeda Begum, appearing for the city government, submitted that as per a letter received from ministry of road transport and highway, the government is proposing to amend the Motor Vehicles Act to the extent that it will take erickshaws out of the ambit of the legislation.
"Local bodies will then frame rules to regulate the erickshaws," Zubeda said while referring to the letter. While the bench refused to comment on the ministry's proposed move, it observed that in the present situation "plying of erickshaws is illegal".
It also took note of news reports that a three-year-old boy died and his mother was injured on Wednesday as a result of an accident involving an erickshaw. "There is no specific load or number of passengers that they are required to carry. They are not registered. They have no insurance," the bench also observed. The bench listed the matter for further hearing on August 14.
The high court's directions came on a petition filed by social worker Shanawaz Khan alleging that erickshaws, which are operated with power output of 650 to 850 watt and are designed to ferry only four people, including the driver, were carrying more than 8 people at a time, endangering their lives.