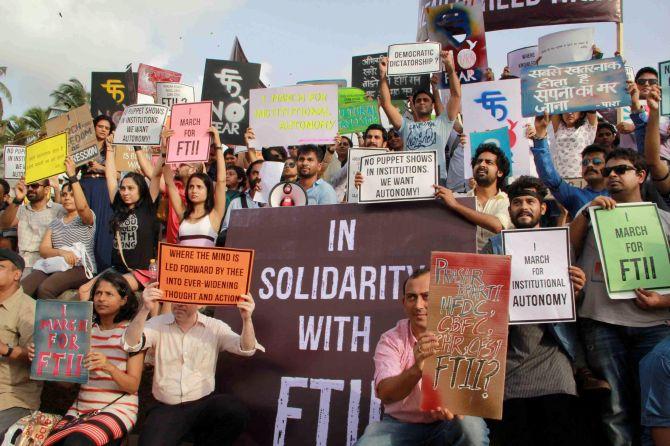 FTII students protests against the appointment of Gajendra Chauhan. Photograph: PTI
Stepping up pressure, a delegation of agitating students and alumni members of FTII-Pune on Friday met Information & Broadcasting Minister Arun Jaitley seeking removal of TV actor and BJP's Gajendra Chauhan as chairman of the governing council of the prestigious institute.
The students and alumni members including Oscar-winner Resul Pookutty and filmmaker Girish Kasaravalli met Jaitley in his North Block Finance Ministry office.
The delegation also held an "inconclusive" meeting for two hours with the senior ministry officials, who heard their demands, according to sources. However, some who attended the meeting said there were some "positive" indications of resolving the issue.
Sources said that the ministry officials included Joint Secretary (films) K Sanjay Murti and had a detailed discussion with the students.
The students staged the protest outside Shastri Bhavan which houses the Information and Broadcasting Ministry that made the appointment.
The students of FTII, carrying placards and shouting slogans, accused the National Democratic Alliance government of "saffronising" education and said they will continue their protest till their demands are met.
Almost all students of FTII have been protesting against the appointment of Chauhan who is best known for his portrayal of Yudhisthir in the mega TV serial "Mahabharat".
The protesters were detained by the police and taken to Parliament Street police station in New Delhi.
The FTII students' association had sent a communication to Information and Broadcasting Minister Arun Jaitley on June 15 on their demands through FTII Director D Narain after failing to get a positive response from the ministry.