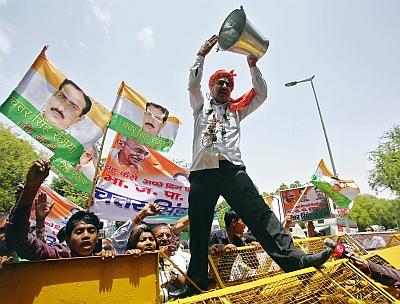 Delhi Congress chief Arvinder Singh Lovely along with scores of party workers was detained on Saturday in the Nangloi area of north Delhi when they tried to block movement of trains as part of the party's agitation against prolonged power cuts and water scarcity in the city.
Delhi Pradesh Congress Committee chief spokesperson Mukesh Sharma, senior party leader Sajjan Kumar and a number of other Delhi Congress leaders were also detained from the protest site at the Nangloi Railway station.
The Congress workers led by Lovely had blocked movement of trains by sitting on tracks around 9.30 am.
As Congress protesters didn't heed to police's appeal to leave the site, they used water cannon to evict them. But as party workers continued their sit-in on the railway track, they were forcibly evicted and taken to Nangloi and Gonda police stations.
A senior police official said Lovely, Sharma and some other Congress workers were taken to Gonda police station.
Criticising the police action, Sharma said that the party will continue its agitation till the power and water supplies are improved in the city. "We condemn the police action. We were not even allowed to protest peacefully. The party will continue its agitation till people are provided relief from long power cuts and water scarcity," Sharma said.
The Congress has been holding a series of protests over the last few days in the wake of long power cuts and water scarcity in some areas.
The city has been reeling under long outages for the last 15 days after the electricity transmission networks were severely damaged by the devastating storm on May 30.
As per a power department official, it may take another seven days to restore the transmission network. The long outages have affected operations at various water treatment plants due to which some areas are facing shortage of water also.

Image: A Congress activist holds a metal pitcher as he stands on a police barricade during a protest march against power cuts and water problems in New Delhi. Photograph: Anindito Mukherjee/Reuters