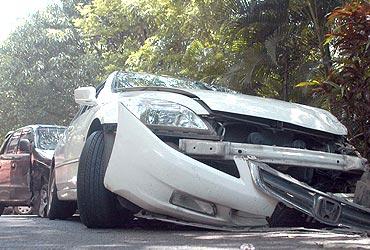 A rickshaw-puller was killed and two other persons were seriously injured when a 19-year-old drunk car driver lost control over the vehicle and rammed it into a two-wheeler, a rickshaw and a passerby in East Delhi's Anand Vihar area on Saturday, the police said.
The accused -- Harjeet Nagpal -- was nabbed by the police after a two-kilometre chase and was allegedly found to be heavily drunk, said the police, adding that he does not even have a driving licence.
The mishap took place around 8.30 pm. Harjeet, who was driving an 'i20' car, first rammed it into a scooty being driven by a 19-year-old girl and then hit a passerby. The car did not stop at this and went on to hit a cycle rickshaw, killing its puller.
Further, while fleeing the spot, Harjeet again rammed into a police picket there.
He was arrested after a two-kilometer chase and was found to be heavily drunk, said police. Rickshaw puller Sadir, 25, died in the accident, while two-wheeler driver Soni 19, and the passerby Shivpal, 38, have suffered grievous head injuries, said the police.
They injured are being treated at a nearby hospital. Harjeet lives with his family in Jwala Nagar. Strict action will be taken against Harjeet's parents who allowed him to drive the car without a licence, said the police, adding that a case of causing death due to rash and negligent driving has been registered.