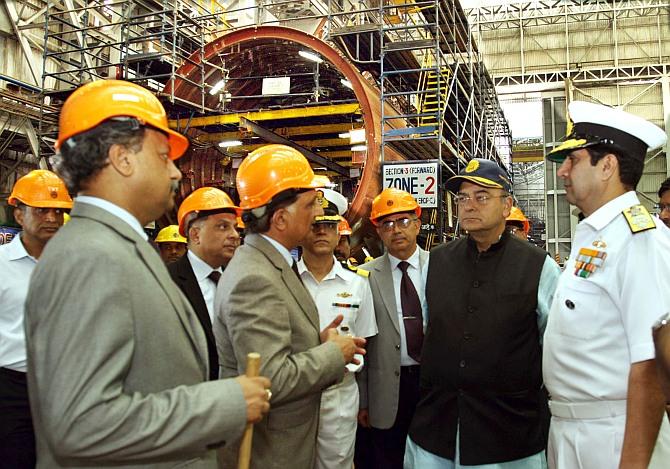 Defence Minister Arun Jaitley on Wednesday reviewed the progress of 'Project 75' (indigenous submarine construction project) along with other ongoing warship projects, including P-15 B class stealth destroyers in Mumbai.
Accompanied by Navy chief Admiral R K Dhowan, Jaitley visited the Mazagon Docks Limited, a defence release said.
The visit of the defence minister, within three months of his taking over, demonstrates the importance accorded by the government to the indigenous construction of submarines and warships, it said.
The minister inaugurated the Mazdock Modernisation Project, which would enhance the warship and submarine construction capability of the shipyard. Haskoning Nederland B V (HNBV) are consultants for this project.
The Project 75 submarine construction project is a very important project for the country and Indian Navy.

Six state-of-the-art submarines fitted with latest equipment are being built at MDL, Mumbai, under collaboration with DCNS France, giving a massive boost to the indigenous submarine construction capability of the country, the release said.
With all the impediments and material hurdles resolved, the construction of submarines is progressing on schedule to meet the planned delivery schedule of September 2016, it added.
First three submarines of the project are in outfitting phase, and the systems of the first submarine are being 'Set to Work', the release said. The first submarine is expected to be launched in September 2015.

The minister also got an update on the progress made in the second warship of the Kolkata Class vessels called the INS Kochi, which is likely to be commissioned in the Navy by next year.
The government is giving a lot of attention to developing the indigenous warship construction capabilities and is likely to come out with more policies for promoting the local industry.

The Indian Navy has a fleet of Kilo Class and HDW class of submarines but it has not been able to induct any new vessel in the last over 15 years.