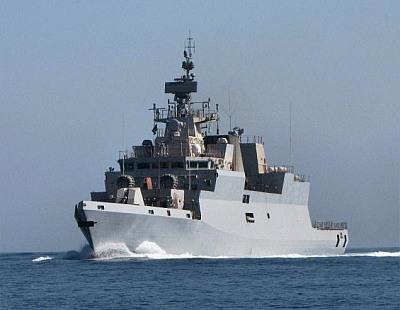 India's first indigenously-built anti-submarine warfare Corvette INS Kamorta was commissioned by the Indian Navy at brief ceremony in Visakhapatnam on Saturday.
Speaking on the occasion, Defence Minister Arun Jaitley said, "I am sure INS Kamorta will serve this country effectively for a very long time."
"In recent months, amongst the various initiatives that the government has undertaken is indigenous manufacturing of our defence deployment," he added.
INS Kamorta is the first of the four ASW stealth corvettes designed by Indian Navy's in-house organisation, Directorate of Naval Design (DND), and built by Garden Reach Shipbuilders & Engineers Ltd, Kolkata, under Project 28.
With a displacement of about 3,500 tonnes, the ship spans about 110 metres in length and 14 metres at the beam. Its propulsion system consists of two diesel engines to achieve a maximum speed of 25 knots and an endurance of about 3,500 nautical miles.
The sophisticated frontline warship is the first Indian Naval warship ever built in the country with almost 90 per cent indigenous content.
INS Kamorta has been constructed using high-grade steel (DMR 249A) produced in India. Its weapons and sensors suite showcase the nation's growing capability in designing and developing sophisticated weapon systems, which include heavy weight torpedoes, ASW rockets, medium range gun and close-in-weapon system, comprising two multi-barrel guns.
Her sensors include the most advanced bow-mounted sonar and indigenous air surveillance radar, Revathi, with a capability to detect targets 200 km away.
INS Kamorta has enhanced stealth features that make her less susceptible to detection.
For More Defence News, CLICK HERE