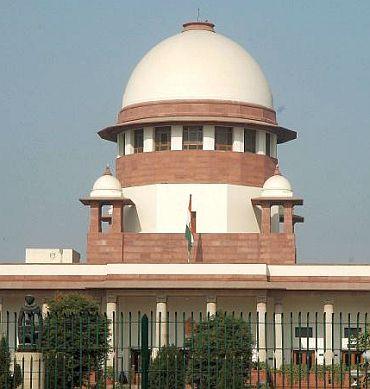 The Supreme Court on Monday extended till April 7 the stay on the execution of death penalty of two of the four convicts in the December 16 gangrape and murder case, asking for a copy of the trial court judgement.
A bench of justices B S Chauhan and J Chelameswar said they have gone through the judgement of Delhi High Court which has upheld the conviction and death sentence of the four convicts on March 13 but would also like to go through the verdict of the trial court awarding the extreme punishment to the convicts.
The court adjourned the case till April 7 and extended the stay on execution of convicts Mukesh and Pawan Gupta till then.
The Apex court had earlier on March 15 stayed till Monday the execution of death sentence of Mukesh and Pawan after advocate M L Sharma moved a petition regarding this.

Besides Mukesh (27) and Pawan (20), the High Court had also upheld the conviction and death penalty of Akshay Thakur (29) and Vinay Sharma (21).
While dismissing their appeals, the high court had termed the offence as "extremely fiendish" and "unparallelled in the history of criminal jurisprudence" and said the "exemplary punishment" was the need of the hour.

It had also said if this case was not "the rarest of rare cases" then "there is likely to be none".
The 23-year-old paramedic, on the fateful night of December 16, 2012, was brutally assaulted and gangraped by six persons in a moving bus in South Delhi and thrown out of the vehicle with her male friend.

She died in a Singapore hospital on December 29.

Prime accused in the case Ram Singh was found dead in Tihar Jail in March last year and the trial against him was abated.
The sixth accused, the juvenile was on August 31, 2013 convicted and sentenced to a maximum of three years in a reformation home by the Juvenile Justice Board.

Mukesh and Pawan in their appeal submitted that they were denied a fair trial due to public and political pressure and that they were not allowed to take the service of the lawyers of their choice.

"To satisfy political scenario and personal sympathy as the victim is a girl does not take away right of a fair trial which has been denied and the real accused has been left free for ever, which is evident from the records itself," the petition said.
They further contended the trial in the case was started on January 21, 2013 under public/political pressure, contrary to the legal provisions, with sole object to hang them and other accused persons.

"There are glaring evidence for miscarriage of justice on records for procuring false statement under torture by the prosecution," the petition has submitted.