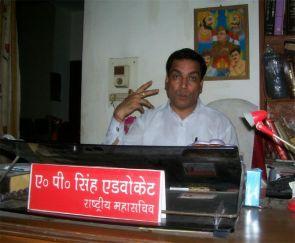 An advocate in the December 16 gang rape case, who courted controversy with his gender specific remarks, on Thursday said it was a "personal statement confined to his family which has been given a general interpretation."
A P Singh, a lawyer for two convicts, said his statement "... If my daughter was having premarital sex and moving around at night with her boyfriend, I would have burnt her alive. I would not have let this situation happen. All parents should adopt such an attitude," was not meant for all women.
"My remark was confined to my family members only. I have not given a statement for all girls/women living in society."
"I was talking about my family. I will try to save them first from any type of attempt... Character is the most important thing for a person, if that goes then a person loses everything," Singh said in his statement in Hindi.
On being asked about the show cause notice issued to him by the Bar Council of Delhi, he said he will accept the punishment if he was found by the lawyers' body of any wrongdoing.
"I am a lawyer and Bar is like my mother, whom I respect. If I have done something wrong then I will accept the punishment, if imposed on me by the Bar or its member."
The BCD had also said that Singh's statement comes under "professional misconduct" and it can take action against him.
Image: Advocate Ajay Prakash Singh in his office in New Delhi
Photographs: Swarupa Dutt