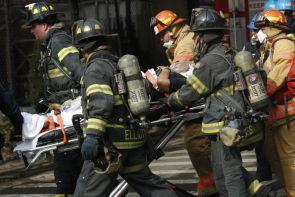 Rescuers on Friday pulled out another body from the rubble of two flattened Manhattan apartment buildings in New York city as the death toll rose to eight.
The two buildings at 116th Street and Park Avenue in Harlem housing residential units and shops, collapsed after a huge explosion on Wednesday morning, just minutes after occupants complained of a gas leak.
The bodies of two men and a woman were pulled from the rubble overnight. Earlier, four bodies were extricated from the debris.
So far 65 people have been injured in the collapse and at least nine people are still missing even as fire department personnel were on the scene "actively putting out pockets of fire."
New York Mayor Bill de Blasio yesterday had described the incident as a "tragedy of the worst kind because there was no indication in time to save people."
The impact of the explosion had downed the two buildings and there was also a "very heavy impact" on the surrounding complexes as well.
The explosion jolted the East Harlem neighbourhood, shattering windows, sending people running on the streets as clouds of smoke arose and threw debris on the nearby rail tracks which led to the suspension of trains coming in and out of Manhattan's Grand Central terminal.
The two buildings, century-old, five-storey brick structures, had housed 15 apartments, a church and a piano store. The explosion also severely damaged a neighbouring four-story building.
On thursday, three bodies were pulled out who were identified as Carmen Tanco, 67, Griselde Camacho, a 44-year-old security guard at a local college in Manhattan and Rosaura Hernandez, 21, the Wall Street Journal reported. Several children were among those injured. A day after the explosion, city officials said smoke was still rising from the rubble and a portion of one of the levelled buildings was on fire.
Authorities have said that preliminary evidence pointed to the explosion being triggered by the gas leak.
The explosion sparked reminders for some New Yorkers of the 9/11 terror attacks in 2001 that brought down the Twin Towers while some witnesses said it felt like an earthquake.
Image:The bodies of two men and a woman were pulled from the rubble overnight
Photographs: Shannon Stapleton/Reuters