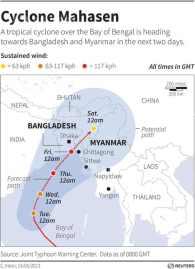 Rain and thundershower are likely to lash many parts of coastal Odisha and some other areas under the impact of the cyclonic storm 'Mahasen', centered about 760 km south of Paradip on Tuesday, the meteorological centre in Bhubaneswar said.

At least seven people were killed and nearly 3,000 left homeless as the storm caused heavy rains in the north and eastern parts of Sri Lanka.
The cyclonic storm over the south-east Bay of Bengal moved northwards and lay centred near latitude 13.50 N and longitude 85.50 E, about 760 km south of the port town of Paradip, the Centre said. The system would move northwards for some more time and thereafter re-curve towards the Bangladesh-Myanmar coast, it said.
Under its impact, rain and thundershower would occur at many places in coastal Odisha and a few interior areas during the next 24 hours, it said.
Distant Warning Signal Number-Two kept hoisted at Paradip and Gopalpur ports and fishermen were asked to be cautious while venturing into sea.
Surface wind speed reaching 35-40 kmph gusting to 50 kmph from southeasterly direction would prevail along and off the Odisha coast.
As a precaution, collectors of the coastal and nearby districts were asked to closely watch the situation and keep field functionaries on alert to meet any situation, official sources said.
The coastal districts put on alert by the government are Ganjam, Puri, Jagatsinghpur, Kendrapada, Bhadrak, Balasore, Khordha, Cuttack, Jajpur and Mayurbhanj.
Meanwhile, in Sri Lanka the tropical cyclone that developed in the southeast Bay of Bengal over the last few days has now slowed down.
Landslide warnings were also issued in the hilly districts. Some of the hilly areas have seen torrential rain.
Some 60 fishing boats that defied weather warnings had to be rescued from the eastern coast of the island nation, officials said.
Sri Lanka's Minister of Disaster Management Mahinda Amaraweera said that he has informed the officials to do away with the name 'Mahasen' to identify the storm.
Some nationalist groups claimed Mahasen was a Sinhala King who brought prosperity to the island. Thus, it was wrong for a destructive cyclone to be named after him, they argued.

Graphic: Map of South Asia locating the forecast and potential path of Tropical Cyclone Mahasen | Photograph: Reuters