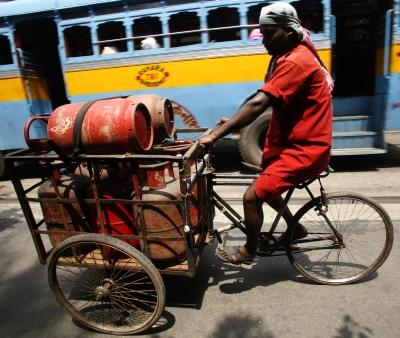 A fresh notification prohibiting cycles and other forms of non-motorised transport along 174 major thoroughfares of the city has been issued by the Kolkata police.
Last year, the police had issued a similar notification banning cycles but the West Bengal government did not ratify it within the stipulated period of two months, making the order legally invalid.
Signed by Kolkata Police Commissioner Surajit Kar Purkayastha, the new notification under the West Bengal Motor Vehicle Rules, 1989, says the movement of a cycle van, handcart, pull cart and bicycle has been restricted in the metropolis to ensure smooth, uninterrupted movement of vehicular traffic.
However, under a Right To Information reply, the police have already admitted that they do not have any study or report to infer that the ban will actually improve the flow of traffic.
Besides ordinary cyclists and green crusaders, newspaper vendors, milkmen, courier boys, transport and bakery vans said such a ban would go against the idea of sustainability and affect the livelihood of poor people who are dependent on NMT (non-motorised transport).
Under the forum 'Chakra Satyagraha', NMT users have been campaigning for revocation of ban and moved a petition in the Calcutta high court.
Activist Ekta Kothari Jaju, leading the campaign, wondered why the Kolkata police was not according priority to NMT when the whole world is moving in that direction. "We are baffled by this new notification and it goes to show that these decisions are arbitrary and without any reason."
The National Urban Transport Policy has also advocated giving priority to non-motorised forms of transport, as they are non-polluting.
Various studies have shown that motorised vehicles are the biggest polluter in India as they contribute around 70 per cent of air pollution in the country.
At present, cars occupy around 90 per cent of the road space while carrying only 10 per cent of the passenger load.
A study done by environmental NGO 'Switch On' shows that private vehicles are the cause of congestion and not cycles or other forms of NMT.
Activist Medha Patkar had also written to West Bengal Chief Minister Mamata Banerjee, saying any blanket ban on cycling will work against the poor and working class people.

Image: The movement of a cycle vans, handcarts, pull carts and bicycles has been restricted to ensure smooth traffic

Photograph: Jayanta Shaw/Reuters