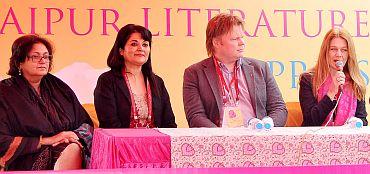 A wave of crime writing is better than a wave of crime, said author Namita Gokhale at the launch of 'Crime Writers' Association of South Asia' at the ongoing Jaipur Literature festival on Monday.
"Crime novels are like pressure cooker in the society. They provide a certain function in the psychological makeup of the society", Namita, co-director of JLF, said.
Encouraged by the success of the ongoing crime and punishment series at the Jaipur Literature Festival, the Crime Writers Association for South Asia has been co-founded by Namita Gokahle and author Kishwar Desai.

"The Association will play an important role because we are trying to give a platform for crime writers whether they be in fiction or non-fiction. All of them should come together on this platform connecting with publishers and agents", Kishwar said.
"We are working towards a festival on crime fiction later this year where in we will celebrate a weekend of crime writing", she said.
According to Namita, the festival which is being scheduled for September this year and it will contribute to the existing explosion of crime fiction in the country.
"It will be a two day crime literature festival where we will also invite Scandinavian authors as crime writing is one of the great genres of Scandinavian fiction.
"We will also be inviting Crime writer's association in the UK for the festival", Kishwar said.

Also present on the occasion were Norwegian crime writers Jorn Lier Horst and Margaret Mascarenha.

"It will create lots of new opportunities in crime fiction writing as it will be a great platform for writers to get around. We would like to work towards the translation of our crime literature into Indian languages and also the other way round," Margaret said.
Echoing her views, Horst said "we need better crime writing skills and hope this platform, where all creative minds are coming together, will be able to learn and share ideas to improve our imagination and writings".

Image: (From left to right) JLF co-director Namita Gokhale with authors Kishwar Desai and Norwegian crime writers Jorn Lier Horst and Margaret Mascarenha

Additional Inputs: PTI