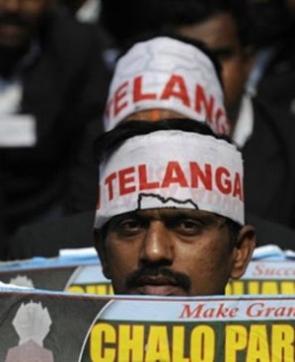 The Congress party may put the Telangana issue on the back-burner to focus all its resources on countering Gujarat Chief Minister Narendra Modi, who is likely to be named the Bharatiya Janata Party's prime ministerial candidate for the 2014 Lok Sabha polls.
To add to the party's woes, Andhra Pradesh minister Shailajanath has warned that the state cabinet will not react well when the note on the creation of Telangana finally reaches it.
Shailajanath, incidentally, is the convener of the Seema-Andhra Members of Parliament and Members of Legislative Assembly, which is fighting for a united Andhra Pradesh. He has warned that state legislators who are against the division of the state will resign en-masse.
The Congress fears that the Telangana issue will split its Andhra unit. The timing could not be worse as the party needs to keep its house in order to counter Modi.
To avoid a political showdown, the Congress is trying to delay the Cabinet note by making use of bureaucratic hurdles.
According to sources, the home ministry has not yet sent the note on Telangana to the law ministry for a legal opinion.
Defence Minister A K Antony, who has been briefing the Congress high command about the steps to be taken to create the state of Telangana, has repeatedly stated that the party needs to make its intentions clear to the people of Andhra Pradesh.
Antony has already explained to the Congress high command, and party president Sonia Gandhi, about the state-wide agitations going on against the bifurcation of Andhra Pradesh.
The senior politician has time and again stressed that his party needs to present a clear picture about the formation of Telangana and set a definite time-frame for the completion of the process.