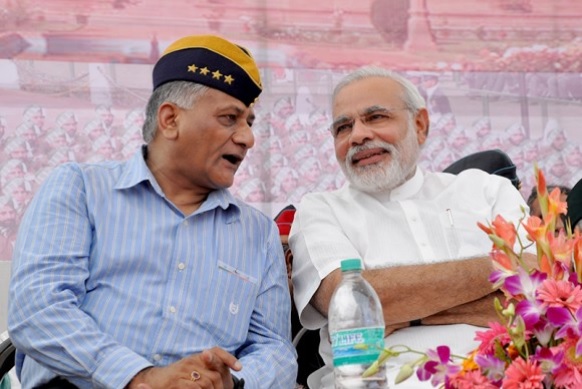 Accusing the Centre of "misusing" intelligence agencies and the armed forces to reap political dividend, the Bharatiya Janata Party on Saturday said former army chief General V K Singh was being falsely accused of allegedly attempting to destabilise the Jammu and Kashmir government.
"General Singh is being implicated in attempts to topple the Jammu and Kashmir government (during his tenure as army chief). Why would a General do this," BJP spokesman Prakash Javdekar said today.
He was responding to a media report that had accused the General of misusing the secret service funds to topple the Omar Abdullah government.
The BJP had accused the Congress of "hounding" Singh for sharing the stage with its prime ministerial candidate Narendra Modi at a rally in Haryana.
According to a media report quoting an army document, Singh paid off an NGO to try and change the line of succession in the army top brass, to buy off-air interception equipment and to conduct "unauthorised" covert operations.
The Board of Officers' report of the army has alleged misuse of position by General Singh and unauthorised operations and financial wrong-doing by the intelligence unit named Technical Support Division.
Javdekar said the central government was also "misusing" the armed forces and in the process, the army is being defamed.
"Our enemy country might take advantage of the situation," the Rajya Sabha Member of Parliament said.
He also alleged that the nexus between the Congress and the Samajwadi Party was behind the violence in Muzaffarnagar, Uttar Pradesh.
"The Uttar Pradesh government did not allow BJP chief Rajnath Singh to visit the riot-affected areas but later allowed top Congress leaders to do so," he said.
Javdekar accused the Congress of reneging on its poll promises, saying, "The people will certainly question why the party failed to deliver on the promises within 100 days of coming to power".
Image: Gujarat Chief Minister Narendra Modi with former army chief General V K Singh ' Photograph Courtesy: http://www.narendramodi.in/