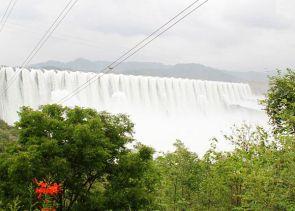 The Gujarat government on Monday alleged that Congress is spreading lies on the issue of construction of gates of Sardar Sarovar Narmada dam.
In a apparent rebuttal to allegations made by Congress leader and former Leader of Opposition Shaktisinh Gohil, State spokesperson and Finance Minister Nitin Patel in a statement accused him of "spreading lies" and "hiding facts" over the issue.
"All the three states concerned - Gujarat, Maharashtra and Madhya Pradesh - have fulfilled their responsibilities of rehabilitation and other project-related issues. Still the central government has delayed the matter," Patel said.
"The meeting of Rehabilitation and Resettlement Committee, held on September 12 last year under the chairmanship of secretary Social Justice and Empowerment, was adjourned on frivolous grounds and the decision of granting permission to build gates was delayed intentionally," he alleged.
Gohil, while referring to a speech of Gujarat Chief Minister Narendra Modi on Sunday, had alleged, "The CM is using Narmada project for a canard campaign against the central government and spreading blatant lies to conceal his own failures and criminal negligence in implementing the Narmada project."
"In reality, because Gujarat and Madhya Pradesh governments are not fulfilling their responsibilities of rehabilitation and other project-related work, committee of the (Narmada Water Disputes) Tribunal is not giving permission to install gates on the dam," he had said.
Modi, while addressing a gathering at Devla town near Rajkot, had slammed the UPA government for allegedly ignoring the state government's demand to construct gates at Sardar Sarovar Narmada dam and said the Centre was only concerned about "nephews and uncles".
Patel also claimed based on the request of Maharashtra government, Gujarat has already rehabilitated 90 families of that states at Nizar taluka in Gujarat and rehabilitation of remaining 332 project affected families has been completed by Maharashtra in 2012 itself.
"There was no issue of pending rehabilitation work as the Maharashtra government has already written to R&R committee, dated January 8, mentioning the completion of rehabilitation work. But a meeting of R&R committee, scheduled to be held on January 23 last year, was postponed at the behest of the Centre citing ill health of the committee chairman," he said.
"Central government is delaying the issue with the clear political intentions and Gohil is spreading blatant lies to cover the central government...He should stop this for the welfare of the people of Gujarat," Patel said.