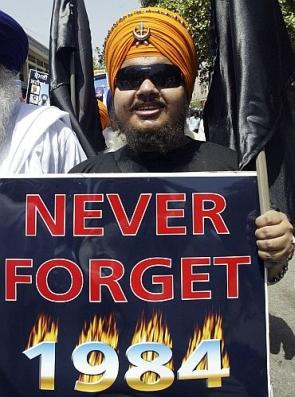 The Congress has approached a United States court in New York seeking dismissal of a lawsuit filed by a Sikh rights group over the 1984 anti-Sikh riots, saying American courts do not have subject matter jurisdiction over the case.
The Congress party's attorney Ravi Batra on Thursday filed a memorandum of law in Manhattan court in support of a pending motion to dismiss the lawsuit filed by Sikhs for Justice.
The new memorandum said that SFJ "unjustly" seeks to hold the Congress party, which is not a "natural person", liable in a US court for "acts occurring in India nearly three decades ago, involving only residents of India, with no plausible nexus to the United States."
Batra said in the memorandum that "controlling precedent" deprives the federal court of subject matter jurisdiction over SFJ's other claims under the Alien Tort Statute.
Under the controlling precedent, business entities and corporations cannot be sued in the United States for human rights violations committed in foreign countries.
Batra said SFJ and other plaintiffs "wish to weaken American sovereignty and upset the comity amongst nations" by their lawsuit.
SFJ said that it would challenge the Congress party's motion to dismiss the human rights violation lawsuit.
US federal judge Robert Sweet would hear arguments in the case on March 19.
In March 2011, a US court had issued summons against the Congress in the class action lawsuit filed by SFJ under the Alien Tort Statute and Torture Victim Protection Act.

Image: A protest demanding justice in the 1984 riots case