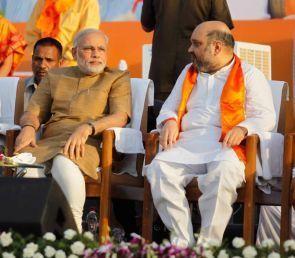 Narendra Modi "does not deserve" to be BJP's PM candidate if the Cobrapost claim on illegal spying on a woman architect in Gujarat in 2009 are found to be correct, Congress women leaders said today demanding an inquiry into the issue by a Supreme Court judge.
Union Ministers Girija Vyas and Jayanti Natrajan, former UPCC chief Rita Bahuguna Joshi and Mahila Congress chief Shobha Oza said the honour and dignity of every woman in India was at stake in the backdrop of "serious issue in which a young woman was stalked, followed, spied upon on during her every waking act by no less than an entire anti-terror squad of Gujarat Police".
"If government machinery is misused...., then obvious, Modi has no moral and political right to govern Gujarat...He does not deserve to be the PM candidate of BJP", Joshi said addressing a joint press conference along with Vyas, Natrajan and Oza at the AICC headquarters.
Bahuguna, a former UPCC chief, said BJP chief Rajnath Singh has himself "unravelled the mystery" behind who is the "Saheb" of former Gujarat Home Minister Amit Shah, by making it clear that it was Narendra Modi.
Two investigative portals, Cobrapost and Gulail, had claimed on November 15 that Amit Shah, the former home minister of Gujarat and Modi's close aide, had ordered illegal surveillance of a woman at the behest of one "saheb".
They had released taped conversation between Shah and an IPS officer to back up their claim, adding that its authenticity could not be confirmed.
The women leaders wondered "Does this illegal snooping not raise moral and ethical issues as to capability, mannerism and style of governance of Modi?
"Can a person with such a flagrant disregard for law, Constitution and liberty of people be trusted to run any public responsibility and protect the rights of citizens," they asked.
Rajnath Singh has already ruled out a rethink on BJP's PM candidate.
The women leaders expressed surprise over the silence of the Gujarat Chief Minister on the matter till date. "Let the chief minister answer first" to the revelations, Natrajan said.
They recalled that leakage of call details of Leader of the Opposition in Rajya Sabha Arun Jaitley had led to vociferous protests by BJP and stalling of Parliament for three days. It also led to registration of criminal cases and arrest of those found prima facie guilty.
"Should similar action be not initiated against Modi, Amit Shah and others involved in this illegal snooping racket?", they asked.
They also asked whether it is not a fact that illegal interception of the nature allegedly conducted by Modi, Shah along with police officers makes it out a clear case under different sections of the Indian Telegraph Act and IPC.
"Would it not tantamount to stalking? Does it not violate the very oath of office to Constitution and people by Modi?", they wondered.
In a set of questionnaire to the Gujarat chief minister, his close associate as also the BJP, they wondered whether Modi and Shah have the right to allegedly conduct surveillance of a young girl as also tapping her phones, phones of her friends and acquaintances with "complete impunity in a totally illegal fashion?".
"Will Modi and Shah state as to from where the money, resources, vehicles and plane tickets generated for the purposes of surveillance? Did the money belong to public exchequer?", they asked.
Noting that the young woman was allegedly followed by the police across the boundaries of states to malls, restaurants, gyms and wherever she went, they said this raised "pertinent questions about credibility, credit worthiness and faith that one can repose in a person like Modi holding the high office of CM of Gujarat".