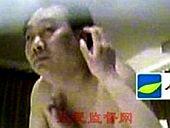 China is facing a avalanche of sex scandals as 'investigative reporter' whose videos of an official in compromising position with his mistress created embarrassment for the government, plans to release more such clips.

The threat came even as an "anchor" of a TV station charged a Communist Party politician of coercing her into long-term relationship.

Zhu Ruifeng, a "reporter with counter-corruption website" jdwsy.com, told state-run Global Times that five more sex videos featuring officials of Chongqing, till early this year ruled by disgraced Party leader Bo Xilai, will be released after getting enough proof of their authenticity.

Zhu posted the 12-second-long video to the Internet last week showing Lei Zhengfu, then secretary of the Beibei District Committee of the Communist Party of China in Chongqing, in compromising position with an 18-year-old Zhao Hongxia.

Zhu claims Zhao has been Lei's mistress for the last five years.

 Lei 54, who has been sacked and faced disciplinary probe by the Party, had been receiving bribes and sexual favours provided by local businessmen, Zhu said.

The video, filmed by Zhao with a hidden camera, was later used to threaten Lei by the construction company but Lei managed to get local police, led by then police chief Wang Lijun, to detain Zhao for a month and send the company manager to prison for one year, Zhu said.

Wang, who fled to US Consulate fearing reprisals from Bo over investigations into his wife Gu Kailai's involvement in the murder of British businessman Neil Heywood has been imprisoned for 15 years.

State-run Xinhua news agency reported on Monday that officials pledged a thorough investigation into the sex tape scandal.

The Chongqing Municipal Committee for Discipline Inspection of the Communist Party of China said it will not tolerate officials' misconduct.

Each of the reported cases will be investigated and each official involved will be punished.

Meanwhile, another sex scandal rocked the administration. Wang Dechun, 42, who identified herself an former anchor city TV of Shuangcheng in Northeast China's Heilongjiang Province, has accused a deputy to the local People's Congress of coercing her into a sexual relationship more than a decade ago, the Beijing News reported on Sunday.

Wang said on her microblog Sina Weibo that congress deputy Sun Dejiang, who is also general manager of a local industrial company, used his power to coerce her into a relationship that began before 1999.

Global Times reported that Wang in her Weibo account has said that she became indebted to Sun after he arranged to provide her retired mother with a pension and social security benefits by putting her on the list of factory retirees, even though she never worked there.

Wang said Sun threatened to cut her mother's pension unless she continued to provide sexual favours.

She wrote that he pressed her to continue to the relationship even she was married to another man and became pregnant.

"I haven't exposed him until now because I'm afraid of his influence," Wang told the Global Times.
Wang claimed that her mother was one of many unemployed people Sun had added to the factory's list of retired staff members.

A team of investigators was set up by the local Party commission for disciplinary inspection on Saturday which will make its report public when completed, the daily reported.

Image: Caught in the act ... Lei Zhengfu was fired after an investigation