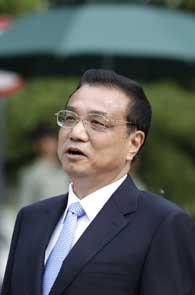 Chinese Premier Li Keqiang, who will travel to Islamabad next week to hold talks with President Asif Ali Zardari and caretaker Prime Minister Mir Hazar Khan Khoso, will also meet Pakistan Muslim League chief Nawaz Sharif, who is set to form Pakistan's new government.
Li will meet Sharif on May 23.
Sharif, whose PML-N emerged as the single largest party in parliament in the May 11 general election, is expected to arrive in the federal capital a day or two ahead of the meeting to give a final shape to his cabinet, party officials said.
In Beijing, Chinese Vice Foreign Minister Song Tao told reporters that Premier Li intended to meet Sharif during his visit to Pakistan.
Li is embarking on his first foreign trip since taking office this weekend and will travel to India, Pakistan, Switzerland and Germany.
There are also reports that Sharif may undertake a brief visit to Saudi Arabia before he is formally elected prime minister during a session of the new National Assembly.
Li will be the first world leader to visit Pakistan after the landmark election that marked the first democratic transition of power in the country's history.
While in Islamabad during May 22-23, Li will also hold talks with Zardari and Khoso.
Zardari will host a luncheon for Li on May 22 to which leaders of all major political parties have been invited.
Zardari and Li will also address a joint press meet.
Khoso will host a banquet for his Chinese counterpart on Friday evening.
Foreign Office spokesman Aizaz Ahmad Chaudhry said several bilateral MoUs will be signed though details of the agreements are being worked out.
The visit will provide an opportunity to Li to meet the President, caretaker prime minister and the new leadership in Pakistan, he said.
"The visit also provides further impetus to our strategic relations. These friendly ties and the friendship with China is the cornerstone of Pakistan's foreign policy. A warm welcome awaits Premier Li," Chaudhry said.