China's new Communist Party leader Xi Jinping will formally take over as president in early March when the country's legislature opens to elect the leaders at various levels.
The first annual session of the 12th National People's Congress will convene on March 5, during which top state leaders including the country's president will be elected, state-run Xinhua news agency reported today.
The NPC is regarded as rubber stamp legislature as most of the power wrests with the ruling Communist Party of China, whose bodies elect the national leaders.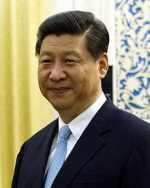 Fifity-nine-year-old Xi was elected as the general secretary of the CPC last month succeeding Hu Jintao, which makes his election as the president a formality. He has already been appointed as the head of the military and will take over as the president with the incumbent retires in March.
Hu has already handed over the Party and military posts to Xi.
Similarly, Vice Premier Li Keqiang, 57, who was elected as the number two leader in the party's seven member standing committee of the politburo would take over as the prime minister from the incumbent Wen Jiabao. Changzhi, the new leader of the China Democratic National Construction Association, said Xi has accepted his suggestion of working with the CPC to reach a commonly agreed approach to better carry out democratic supervision on state affairs.
Xi also pledged to continue the multiparty cooperation system and encouraged non-Communist parties to fully exert their advantages while participating in state affairs in the one party system.
Besides warning against corruption, Xi also ordered the party, bureaucracy and military to cut extravagance.        
Xi's words have shown the leadership's concern and eagerness to address long-standing issues such as corruption to ease social resentment, Lin said.
He was elected as the new CPC general secretary succeeding Hu Jintao at a party conference here last month as part of once-in-a-decade power transition. It is a tradition for new party to hold talks with the non-Communist parties and the All-China Federation of Industry and Commerce, which play a subdued role in Chinese politics and power structure.