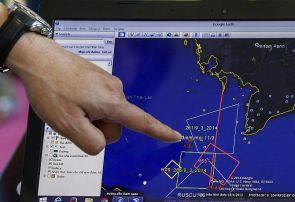 China on Wednesday said no trace of the missing Malaysian plane entering its territory or airspace has been found after scouring the most difficult terrain in Tibet and Xinjiang.
China, which has pressed 21 satellites to look for the Flight MH370, deployed more vessels for a second phase of search, covering an area of 300,000 square km, Foreign Ministry spokesman Hong Lei told a daily press briefing.
Chinese naval ships sailed off from Singapore and split into two groups, one heading north and the other south looking for the Beijing-bound plane, with 239 people aboard including 154 Chinese, missing for 12 days now.
The search areas cover seas to the west of the Bay of Bengal and Indonesia, Hong said.
China said it has found no trace the Boeing 777 entering its territory or airspace following inputs that the jetliner might have flown to Central Asia through the northern corridor. "With a vast area of territory, search work is still in full swing," Hong said.
Radar and satellite data for parts of China covered by the "northern corridor" have been examined in meticulous detail at the request of the Malaysian side.
Malaysian officials have said the plane could have gone anywhere along a giant arc extending from Kazakhstan in the north to the Indian Ocean in the south.
"China has shared satellite data with Malaysia at the request of the Malaysian side," Hong said, adding that it will give further information when data is completely verified.
"China has conveyed Malaysia's request to all countries related through diplomatic channels to express hope for their efforts to take part in the international search," Hong said, calling for further coordination with Malaysia in the search.
"China has repeatedly asked the Malaysian side to take care of relatives of passengers and respond to their reasonable concerns," he said.
Multination efforts so far have failed to find any trace of the plane after it mysteriously disappeared from radar an hour after taking off from Kuala Lumpur on March 8.
Image: A map of a flight plan is seen on a computer screen during a meeting before a mission to find the Malaysia Airlines flight MH370 that disappeared from radar screens in the early hours of Saturday, at Phu Quoc Airport on Phu Quoc Island
Photograph: Athit Perawongmetha/Reuters