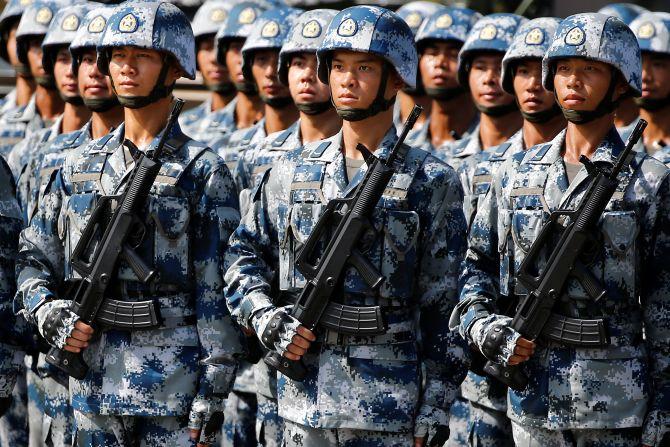 China on Tuesday skirted a direct response to Army chief General Bipin Rawat's remarks that there was a major reduction of Chinese troops in Doklam, but insisted that its soldiers stationed in the area were exercising 'sovereignty rights'.
China and India were engaged in a 73-day tense standoff at Doklam in the Sikkim sector which ended on August 28.
"The Dong Lang (Doklam) area has all along been part of China and under China's continuous and effective jurisdiction. There is no dispute in this regard," Chinese Foreign Ministry spokesman Lu Kang told the media when asked about Rawat's remarks.
Rawat on Monday said Indian and Chinese troops had resolved an issue over the recent attempt by Chinese teams to build a road on the Indian side of the border at Tuting in Arunachal Pradesh.
Rawat also said there was a major reduction of Chinese troops in the Doklam area.
"Chinese border troops patrolling and stationing in the Dong Lang area are exercising sovereignty rights in accordance with the stipulations of historical conventions and upholding territorial sovereignty," Lu said, without commenting on the troop reduction.
Lu also did not directly refer to Rawat's comment that India and China have sorted out the issue relating to the plans of Chinese troops to construct a road well into the Indian territory at Tuting in Arunachal Pradesh in the last week of December.
Lu reiterated China's claims over Arunachal Pradesh which Beijing says is part of South Tibet.
"My colleagues have responded to the question concerning this many times. I need to reiterate that there is a huge dispute on the eastern section of the China-India boundary," Lu said.
"So we have to reach an agreement through consensus. But before that we need to uphold peace and security. We can properly resolve the relevant dispute through mechanisms already established and bind by historical boundary related agreements," he said.
On Doklam, China has been asserting that the area which was also been claimed by Bhutan belonged to it.
The Doklam standoff, the longest in recent years between the two nations, ended after China agreed to stop road construction and India withdrew its troops.
But much to the surprise of India, China continued the deployment of its troops in an area close to the site of standoff disregarding its previous practice of pulling out soldiers during the winter.
Video of Indian, Chinese troops shaking hands appears
A video on Tuesday surfaced of troops from India and China shaking hands apparently to resolve a dispute at Tuting in Arunachal Pradesh where Chinese teams had attempted to build a road on the Indian side of the border.
Though the veracity of the video could not be ascertained, official sources said it appeared to be genuine.
In the video, an Indian officer is seen talking to Chinese military personnel to resolve the issue.
After a brief conversation, the two personnel, accompanied by their respective colleagues, were seen shaking hands.
On December 28, Indian troops had foiled attempts by Chinese road building teams to build a track around one kiolometre inside Indian territory in Tuting, government sources had said.
They had said that the civilian teams went back when confronted by the Indian troops, but left behind two excavators and some other equipment.
Image only for representation. Photograph: Reuters