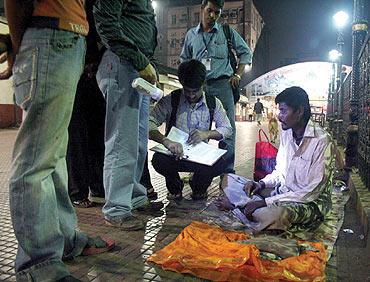 India-born, United States-based Sandip Roy finds being invisible in India's Census discomfiting.
The census taker came to our house in Kolkata the other day. His name was Mukul Ghosh. A middle-aged man, he showed up, armed with a bag and a file folder.
He had 116 houses to cover, he told us. But he had gotten a late start. He had only done about 20. He had been really involved with the elections at the East Bengal football club instead.
"Are you a teacher?" I ask. I had been reading about all the teachers recruited for census duty.
He looks slightly insulted. "I am a government employee," he says.
"Oh," my sister says. "I guess it's a lot of extra work now, especially with the new long census form."
He smiles. It's time consuming for the newbies, he tells us. He says he already knows that my sister is a professor at a government college. He does not need to ask her income. He knows we speak Bengali. He knows my nephew and niece are students. That's because he has been to our place before when the first phase of the Census happened in 2010.
I am impressed. I had once described my old neighbourhood in Kolkata as the place where the fishmonger knew your name. It turns out that holds true for the census enumerator as well.
The 15th national Census is one of the most detailed in Indian history. It asks 29 questions. It is being conducted in 18 languages. As many as 2.5 million (25 lakh) census enumerators like Mukul Ghosh knocked on doors all over the country counting families like mine, prostitutes in red light districts, street children on railway platforms, even eunuchs.
For the first time, the Census lets you put 'Other' when it comes to sex -- male, female, other.
I had just been through the United States census. It had one of the shortest forms in its history. It barely took five minutes to fill out. I just had to remember to mail it. In India, it's a different ballgame, says Purnendu Bannerjee, the deputy registrar general.
"In two weeks, we reach 200 million (20 crore) households in every nook and corner of the country," he says.
That includes one night when census enumerators fan out across the country, counting the homeless and the beggars. Bannerjee claims that in India the Census response rate is as high as 98 per cent.
I met Bannerjee at the office of Dipak Ghosh, the officer in charge of the West Bengal census. It was the last official day for enumeration. The office was buzzing. Files tied with string were piled in heaps on every empty chair. Stacks of papers were everywhere. And everybody seemed to be drinking tea.
Dipak Ghosh is a career Indian Administrative Services officer, but this is his first Census. He says it's a new kind of census. Take the transgender question. Census enumerators have to be trained to be sensitive. The transgender community has to be educated that this isn't some government round-up. The Census is working with non-governmental organisations that can help them. But there is still a lot of communication gap, he says.
"We always view the transgender people as something not within our society. It's a common feeling among us. We have to come out of this mindset," he adds.
Sometimes it's not even about the enumerator or the transgender person. The person answering the questions might be the head of the household. He might identify someone as his son. But the son might actually consider 'herself' a woman.
Dipak Ghosh tells me the other big focus this time around is to see if there can be a more accurate counting of the disabled.
"We have observed that the disabled percentage is very low compared to other countries," he says. "There is a tendency that disabled people are ignored or suppressed. We want to record this properly this time."
I realise that in some ways the Census is a peephole into a changing India. It's not just about transgenders or the disabled. This time marital status includes separate categories for divorced and separated. Mental illness has been separated from mental retardation. For the first time, the census taker is asking for the date of birth.
That, says Mukul Ghosh, is not welcomed by everyone. Many just don't know it. Or if they do they only know the Bengali month of the Bengali year.
And then there are people like my mother who consider their age to be a State secret, to be divulged only to doctors, that too reluctantly.
"I am alive and kicking," she says. "What more does the government need to know?"
That's the basic challenge, admits Dipak Ghosh. "The general response is what is the necessity of collecting so much data. What will you do with it?" he says.
Take the question about how do you get to work. Do you take a car, taxi, bus, auto rickshaw or go by foot, the census enumerator asks my sister.
Bannerjee says the government needs that data. "For transport planning we need two things -- distance of commuting and mode of travel," he says. "Our data on transport planning is very low."

The previous census also tried to collect that information. But the response rate was too low for that question to be useful. But our local census enumerator sees other uses for the data.
Imagine you are Toyota and want to market cars, he says. Wouldn't you like to know who owns cars in the neighbourhood, who could use one, who could afford one.
Or the question about how long you have been married. A company might want that information to market their products, to gauge family stability. "Everything is about the marketplace," he says expansively. "The whole world is a marketplace."

Of course, the data can be used by multinationals and businesses, Bannerjee says. Companies might want to know what kind of workers are available in the area where they want to set up a factory, what general educational levels are. The last census data was heavily used by mobile phone companies.
But he says that's not to distract from the real purpose of the Census -- to count everyone. That even included Mohammed Ajmal Kasab, the sole surviving terrorist in the November 26, 2008 attacks on Mumbai. He was counted in his jail cell.
Only I don't count. I might have been born and raised in India. I might be living here now. But I am not permanent. It is a strange moment -- sitting in our living room watching the census enumerator rattle off questions about each and every one of my family members. I watch him tick off my mother, my sister, my brother-in-law, their children.
I feel like a ghost, invisible to all of them, suspended between worlds. I realise you don't have to be transgender. You can still be 'Other.'
Sandip Roy is an editor and radio journalist with New American Media, currently based in Kolkata.
Image: Census officials note information about a street vendor in Mumbai. Photograph: Uttam Ghosh